UK Airlines

Reviews and ratings of quality, hand-picked, UK websites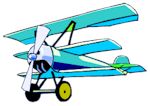 What is a Charter Flight?
Usually flights that are booked by tour operators themselves - this means that your contract will be with the tour operator and not the airline. More than one tour operator could be "sharing" the aircraft. Charter flights usually operate outside of the normal scheduled flights that airlines run and are generally to tourist destinations such as Mediterranean holiday resorts. They tend to operate on a weekly or two-weekly rotation. When you buy a package holiday, whether through a travel agent or direct from the tour operator, the package price will include the charter flight. Because tour operators buy seats en bloc, they have to pay irrespective of whether they manage to sell all the seats. This means that sometimes you can pick up some astonishingly cheap late deals just so that the operator can fill up the seats they have bought.
If you have a large group, there are airlines you can usually charter a flight from yourself, rather than going through a tour operator.
Operating charter flights is good business for the airline because they are able to sell all the available seats to tour operators.
What is a Scheduled Flight?
These tend to cost more than charter flights because the airlines run these to a fixed, and published, schedule all year round and therefore there is no guarantee that all the seats will be filled. The higher cost is to offset any empty seats. Airlines will sometimes offer special deals to people booking in advance.
UK Airlines:
---
Virgin Atlantic
• www.virgin-atlantic.com
Headers: air flights
Virgin Atlantic have routes to many destinations worldwide, including the US, Caribbean, Africa, India and the Far East. Click on their 'Route Map' for more details. Join their Flying Club, which is in partnership with a number of other airlines, including Singapore Airlines, and get air miles and access to any special offers.
---
Air France UK
• www.airfrance.co.uk

Headers: Book online, Schedules, Flight status, Special offers, Practical information, Our services, Frequent flyer, Customer care, About Air France
This is a stylish and easy to navigate website. Air France in the UK has more than 35 daily scheduled flights out of the UK, serving 8 Airports (Aberdeen, Birmingham, Bristol, Cardiff, Edinburgh, Glasgow, Humberside, Leeds, Manchester, Newcastle, Norwich, Southampton, Heathrow, Gatwick and London City Airport). Special offers clearly laid out on the home page.
---
Astraeus
www.flyastraeus.com
Astraeus operates a wide range of charter services to destinations throughout Europe, the Middle East and North Africa. Astraeus also operates a number of services on a scheduled service basis. These include operations to Accra (Ghana), Freetown (Sierra Leone), Malabo (Equatorial Guinea) and Sharm El Sheikh (Egypt).
---
BMI
www.flybmi.com
Offers both charter and scheduled flights. BMI (British Midlands) is one of the UK's largest full service scheduled airlines and operates around 1,700 flights per week. They have a fleet of 40+ Airbus and Embraer aircraft. Flights are operated from most major UK locations to destinations worldwide.
---
British Airways
www.britishairways.com
British Airways is the UK's largest international scheduled airline, flying to over 550 destinations. The British Airways group consists of British Airways Plc and a number of subsidiary companies including in particular British Airways Holidays Limited and British Airways Travel Shops Limited. BA operates a fleet of Boeing and Airbus aircraft.
---
Eastern Airways
www.easternairways.com
Eastern Airways operates flights between most major UK cities, including Stornaway and the Isles of Man. There are also flights from Southampton to Brussels. Eastern Airways fleet is made up of British Aerospace turboprop and Saab jetprop aircraft.
---
easyJet
www.easyjet.com
The airline was founded by Stelios Haji-Ioannou, and the family remains the major shareholder. easyJet operates independently from the other companies, although some "cross-marketing" agreements do exist. The airline is based at easyLand, a bright orange building adjacent to the main taxiway at Luton Airport. easyJet runs a fleet of Airbus and Boeing aircraft.
---
EuroManx
www.euromanx.com
Isle of Man based airline flying from Isle of Man to/from Belfast, Dublin, Liverpool, London City and Manchester.
---
Flybe.com
www.flybe.com
One of Europe's largest low cost airline and the UK's leading non-London centric airline, Flybe operates a fleet of 36 aircraft. 83% of Flybe's flights are UK domestic but you can fly to various European destinations from all the major UK airports. Flybe is owned by the Walker Trust.
---
Jet2
www.jet2.com
Jet2.com is a trading name of Channel Express (Air Services) Ltd which has been flying commercial aircraft for over 25 years. Jet2 offers low cost flights to several European countries from most major UK airports.
---
Ryanair
www.ryanair.com
Ryanair was Europe's original low fares airline and is still Europe's largest low fares carrier. Ryanair has 12 European bases and a fleet of over 100 Boeing 737-800 aircraft. Operates between all the major European airports.
---
ScotAirways
www.scotairways.co.uk
Based at Cambridge Airport, ScotAirways operates a fleet of seven Dornier 328-100 aircraft. They fly London to/from Dundee and Edinburgh with flights from Southampton to Amsterdam. You can get a flight from most major UK airports to destinations worldwide.
---
United Airlines
www.unitedairlines.co.uk
United made a key move into Europe when it took over Pan Ams routes to London in 1991. Since then, the airline has grown to operate daily non-stop services from Heathrow to Chicago, Los Angeles, New York JFK, San Francisco, and Washington. United also offers non-stop transatlantic service from Manchester to Chicago, and seasonal direct service to Washington D.C. United's current fleet includes Airbus, Boeing, BAE, Beechcraft, Canadair, Dornier, EMB and Jetstream.
Other Airlines:
---
German Wings
• www22.germanwings.com
Headers: Air Flights
German Wings, a major German airline, operates flights out of Cologne, Stuttgart, Berlin and Hamburg to most major European destinations. Note you cannot, however, get a direct flight to Berlin from the UK. Flights are from as little as €19.
---
Lufthansa (UK)
• www.lufthansa.com
Headers: Airflights to and from Poland
Lufthansa is the mighty German airline that flys to most countries in the world. It also flys from most major UK airports although not all destinations are accessible from all airports! Like many websites this basic information is not readily available and its a case of suck it and see - very boring and time consuming. Probably easier to give them a ring.
---
Singapore Airlines
• www.singaporeair.com
Book online with Singapore Airlines, one of the world's leading carriers. Their route network spans over 90 cities in almost 40 countries including the Far East, Australia and New Zealand.
NOTE: Only use this link if you are using Internet Explorer or Netscape 6 or above.
---
Japan Airlines
www.jal-europe.com
JAL is the largest international airline in Japan and Asia and flys to 172 destinations worldwide. Frequent departures to Tokyo and Osaka from 18 European cities.
---
Emirates
www.emirates.com
Based in Dubai, Emirates flys to more than 70 destinations worldwide, with flights from London, Manchester, Birmingham and Glasgow.
---
Scandinavian Airlines
www.scandinavian.net
SAS AB is the Nordic region's largest listed airline and travel group and offers air transport and related services from its base in Northern Europe.
Can't find it?
Try our search engines, price comparison and online auction pages.