Art

Reviews and ratings of quality, hand-picked, UK websites
---
All Posters
• www.allposters.com
Headers: Art Prints, Posters, T-Shirts, Framed Art, Plaque Art, Notecards, Magnets, On Sale, Tin Signs, Decorative, Mirrors, Matted Prints, Poster Cards, Standups, Wall Tapestries, Gift Certificates
Claim to be "The World's Largest Poster, Print & Frame Store". They have hundreds of thousands of posters and art prints a their very easy to use website. You can choose to have framing or their own unique mounting service which permanently bonds prints to a durable hardboard backing. Very competitive on price, you can get huge art prints 3 foot wide for around £15, when they are often over £20 for smaller ones on other sites.
---
artgallery.co.uk
• www.artgallery.co.uk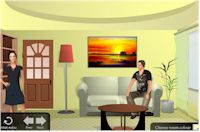 Headers: Originals, Art Prints
Large range of British original art and art prints in a variety of styles. Original art includes paintings and sculptures and there are full biographies of the artists. Browse by price, subject, style, media, colour or artist. You can also sell your artwork through artgallery.co.uk.
• Special Features: "Test drive" a painting or print. Using their virtual room software, choose a room style, including your own colours and see what the painting looks like before you buy!
---
Artrepublic
• www.artrepublic.com
Headers: Art Posters, Art Prints, Framing, Art Terms, Artist Biographies
Stylish site featuring a large range of art posters, screen prints, world-wide exhibition reviews, books, travel guides and competitions. Over 1250 public museums and galleries listed. There is also an interesting section featuring biographies of artists. In addition, there is a clever search facility to help you find exactly the poster/print you want. You can search by colours, subjects, artists, art movement and more. For example you can search on "black and white" and "urban" or "red" and "sport", or "warm" and "cuisine" and "american modern art" etc. This is a very innovative and useful extension of the normal search facilities on the internet.
• Free Worldwide Delivery
• Special Features: Innovative search facilities. (See review above)
---
Draw Me
• www.drawme.co.uk
Headers: Gallery, Testimonials, Order, Contact
Exactly as you might guess ... they draw you. Send them a photo

and they send you caricature of it. You can also tell them what you want the caricature to be doing. To give you an idea of their charges a Single person by E-mail is £29, an A3 print is £39 and an A3 framed print is £59. People use them for Weddings, Birthdays etc and Businesses order them to show in the foyer! Unilever have just bought some for example! If you have a colleague retiring or leaving your company then you can give them a great send off with a caricature surrounded by all their accomplishments, habits and amusing memories. Check out their Gallery for samples. Based in Llanfairfechan Wales.
---
Easyart
• http://en.easyart.com
Headers: Art Prints, Limited Editions, Photography, Celebrities
Easyart has over 50,000 prints, posters and photographs, including limited editions. Styles range from traditional to comtemporary. They also offer a framing service, where you can choose the kind of frame and glass. This is a nice, easy to navigate, site. As you are looking through the prints, you can add favourites to "My Gallery" so you don't lose track.
---
Grand Prix Legends Shopping Mall
• www.grandprixlegends.com
Headers: Aircraft, Book & DVDs, Diecast, Formula 1 & Motorsport, Lifestyle, Minichamps, Motorcycle, Signed, Things for the Car, TV & Film, Wicked Art, Gift Vouchers
As the name suggest, Grand Prix Legends originally sold motorsport merchandise and more motorsport merchandise! Now however, the company has expanded the product line to include bike merchandise (including a new range of Belstaff motorcycle technical wear, and a small range of casualwear), casual clothing for adults and children, an aircraft section selling rare and exclusive model aircraft, TV and film memorabilia, artwork, replica cars and bikes, and a whole new section of gadgets and gizmos for the car. Not to mention autographed motorsport memorabilia. Buy online or order a catalogue. You can find Grand Prix Legends at Cranleigh, Surrey. Excellent website for the enthusiast.
• Special Features: 14 day returns policy. Bi-monthly caption competitions. Gift vouchers available - quote Product Code: GV25
• International Deliveries Available
A collection of Wicked Art - Over 900 designs can be produced on 13 different products.
---
Loftart
• www.loftart.com
Headers: Original Contemporary Artwork, Personalised Art, Corporate
Affordable, yet original contemporary artwork, including paintings, digital art, limited edition photogaphy, sculpture

and triptych paintings, with the focus on interior design. There is a special section where you can choose a painting and then select the colour scheme that best fits in with your own decorating scheme - note that these are all original acrylics on box canvas. Alternatively, send your own photograph and have Loftart create your own, unique, piece of artwork. Loftart has a variety of framing methods - framed prints, box canvas, prints and perspex. Prices are very reasonable and start at around £35 for a box canvas. Loftart is based in Odsal Road, Bradford.
---

Lollipop Animation
• www.lollipopanimation.com
Headers: Original Artwork, Limited Editions, Sculptures, DVDs & Posters, Disney Prints
Lollipop Animation offers exclusive collectibles from Warner Bros. Walt Disney and 20th Century Fox - stocking character brands such as The Simpsons, Mickey Mouse and Superman, to name but a few. Visit the Lollipop Animation Art Gallery at 7a High Street Passage, Ely, Cambridgeshire, CB7 4NB.
• International Delivery Available
---
Northlight Images
• www.northlight-images.co.uk
Headers: About, The Images, Ordering info, Viewing tips, Info & links, Copyright info.
Gallery of some great Black & White landscape digital photography. There are some great compositions here, and they really showcase the B&W format. You can buy the prints also online and there are also loads of articles and resources for digital photographers looking to improve their work - such as how to get the best black and white pictures. I'm going to take a new look at my digital camera and have a go myself!
---
OnePoster.com
• www.oneposter.com
Headers: Posters, Artprints, T-Shirts, Badges, Stickers, Keyrings, Postcards, Accessories.
UK store with 10,000 posters and artprints ranging from pop, rock and movie titles through to humour, wildlife and landscapes. Extensive range of modern and popular artprints. You can get posters for around £3 or £4 or around £10 for Art prints. Hundreds of badges, keyrings, stickers and postcards. Secure site with full money-back guarantee.
---
Scottish Quality
• www.scottishquality.com
Headers: Art, Crafts, Food & Drink, Home & Garden, Jewellery & Watches, Music, Sport, Tradition, Scottish Houses, Custom Engraving
As the name might suggest, the products on the site are uniquely Scottish, from stunning photographs and art prints, knitwear, leatherwork and textiles, gourmet food and whisky, to stylish home accessories, all made and designed in Scotland. You can even buy the designs for a house based on the Scottish blackhouse and longhouse. Naturally, there is a Lewis Chess set, handcrafted on the Isle of Harris. Scottish Quality is based in the Isle of Skye.
• Special Features: 30 day returns policy
---
SportsartWorld.com
• www.sportsartworld.com
Headers: Football, Golf, Ice Hockey, Rugby, American Football, Cricket, Motor Racing, Baseball, Basketball, Horse racing, Motor Cycling, Boxing, Misc Sports
SportsartWorld.com sells a range of limited edition and original sports paintings and prints from a variety of sports. As SportsartWorld.com has its own resident sporting artist, you can even commission your own sports painting. SportsartWorld.com is based in Haddington, East Lothian.
• Free Delivery
---
The Arts & Crafts Home
• www.achome.co.uk


Headers: Furniture, Decoration, Accessories, Research
We don't usually list shops that do not sell online (here you have to fill in an order form), but for this one we make an exception. You can buy the full range of currently available William Morris wallpaper, William Morris Tiles, Mackintosh Furniture, tableware, stained glass, tapestries and much more. Lovely website that also has a wealth of information about the arts and crafts movement.
---
Virgin Experience Days


• www.virginexperiencedays.co.uk
Headers: Vouchers, Drive, Fly, Splash, Pamper, Discover, Days At Home, Collect, Escape, Voyage
Good range of experiences including all the old favourites like flying and driving experiences, plus some more unusual ones such as a holiday in a private game reserve.
• Special Features: In addition to experiences, you can get good quality caricatures made here.
---
World Gallery
• www.worldgallery.co.uk
Headers: Art Prints, Posters
World Gallery is based in London and is one of the leading online art print galleries. They offer a unique canvas-finishing service for prints. Highly competitive prices on over 50,000 fine art prints. Online custom framing, including box mounted, and art consultancy services for business buyers.
• International Delivery Available
Can't find it?
Try our search engines, price comparison and online auction pages.