Backgammon on the Web

An article by Graham Brown
BAckgammon belongs to the "Tables Family", one of the oldest categories of board games. This category always involves a table with 12 vertical markings called "points", dice and some counters. It is not known exactly where the game originated but Wikipedia has plenty of information on the complex strands involved. In particular, and another for the "what did the Roman's do for us" list ...
"The ancient Romans played a number of games remarkably similar to backgammon. Ludus duodecim scriptorum ("game of twelve lines") used a board with three rows of 12 points each, and the pieces were moved across all three rows according to the roll of dice"
Further on, Wikipedia mentions the most recent developement, the doubling cube. This was was first introduced in the late 1920's in New York.
"The cube required players not only to select the best move in a given position, but also to estimate the probability of winning from that position, transforming backgammon into the expected value -driven game played in the 20th and 21st centuries."

Learning Backgammon from the Masters!
Perhaps one of the best ways to learn any game is to be taught by an expert and then to get lots of practice against your own standard of player and if you are brave, better standards of players, working up to playing against stronger and stronger opposition.
And that where the internet comes into it's own!

Put your Dice away! Go make a cup of tea or coffee (optional) and learn the basics from the Expert.
Video Tutorials
Check out these video tutorials, see which style you like best or watch them all!
1. http://hobbies.expertvillage.com/interviews/backgammon.htm
How to Play Backgammon: Rules, Instructions, and Tips from Malcolm Davis who has been a professional backgammon player for more than 30 years.
2. http://www.pokerzone.tv/jc_school.asp
In this series of instructional videos, top UK player John Clark, explains everything from the rules of backgammon to basic playing strategies.
3. http://video.google.co.uk/
If you type something like Backgammon tutorial into Google Video you will find loads of interesting tutorials and videos.
Top


Go Play!
The internet has plenty of places to play Backgammon against real live opponents and it doesn't cost a penny.

FIBS The first place was http://www.fibs.com/ which is lucky for them as they are called the "First Internet Backgammon Server."
The Guide http://www.fibs.com/guide.html takes you through aspects of the game and how to play on the fib server. There are players of every conceivable ability logging onto FIBS, from absolute beginners to serious backgammon champion contenders. So you can be sure of some good practice and you can also watch the experts play each other.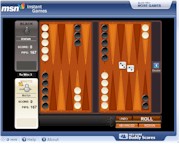 Windows Live Messenger. Unlike the FIBS there are not loads of players there waiting to play you. You will have to have a friend who will play you and is on Windows Messenger at the same time. But this is a luxurious and fun place to play online against a friend. If you don't already have Windows Live Messenger you can get it here.

When you initiate a chat you will see, at the top of the chat window, a number of icons. Click the games button icon (shown here) to see a list of games available. Choose backgammon. An invitation will then be send out to your chat partner - just follow the instructions online.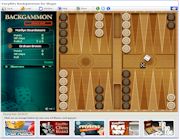 Skype Backgammon
This is another one like MSN Messenger, where you need to have an opponent ready to play you that also uses www. skype .com. You can click on Tools/Do More/Games and then choose Backgammon. This will download a luxurous Backgammon interface. This is a really good way to play against your friends, and they also have loads more games to choose from, for free!:)
Yahoo Games
http://games.yahoo.com
This is another great place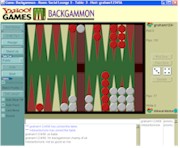 to play. You will find loads of opponents of all strengths. Choose the Board Games link at the top menu and you will see Backgammon listed. Click that and away you go. There is nothing to download and you can get started immediately. (Please note: You need to get yourself a Yahoo username if you don't already have one)

Top

spacer

Buy Stuff!

Although there are plenty of free guides on the web, if you want to take your new hobby seriously it is perhaps necessary to spend a small amont of money. Even if it's just to buy a Backgammon set and a book or two.

Again the internet can oblige! :- If you go to our Main Backgammon Page you will find listings for plenty of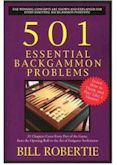 shops that sell Backgammon boards, books, software and the like.
501 Essential Backgammon Problems
In this age of internet video tutorials and online guides, I think most people still like to have a real book. Even just as a novelty item! Amazon have a huge amount and they mostly are reviewed.
Problem books are a good way to learn. For instance check out 501 Essential Backgammon Problems by Bill Robertie. This book covers every aspect of the game and shows you how the top players think and plan. You don't need a board to use the book and you can tackle the problems yourself and then get the congratulations of the expert if you were right and the correct plan if not! A great way to see how you are getting on with learning the game.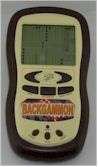 Of course typing Backgammon into the Amazon Search box will reveal hundreds more books. In addition backgammon sets small and large can be bought from Amazon, for anything from around a tenner to much more!
Top


Free Backgammon Software
You can also get free backgammon software for your computer Quick Backgammon is one such but just type "freeware backgammon" into your favourite search engine, or Google, and you will find loads. Of course this is another great way to quickly play lots of games and get experience.
Perhaps the best of the free versions is http://www.gnubg.org/ GNU Backgammon.
Top


Playing Backgammon for Money
Backgammon is an ancient game but very much up to date and enjoyable to play at all levels. If you want to play if for money then make sure you have done your homework first as you will be playing against all sorts of sharks! You could be up against a real expert so make sure you play for the stakes you can afford. That way even if you lose to a professional you will have had an inexpensive coaching session!
Top