UK Boating Holidays

Reviews and ratings of quality, hand-picked, UK websites
---
Hoseasons Holidays
• www.hoseasons.co.uk
Headers: Boating Holidays
Hoseasons has a fleet of narrowboats and cruisers with boating holidays available throughout Britain, ireland and Western Europe.
---
Tillerman Boats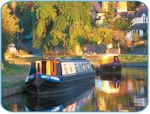 • www.tillermanboats.co.uk
Headers: Canal Boating Holidays
Five star luxury narrowboats to cruise the canal network from Blackwater in Shropshire, Alvecote in Birmingham or Union Wharf, Leicestershire. All prices quoted are inclusive and there is a price promise - if you can book the same holiday cheaper anywhere else, they will refund the difference. Tillerman Boats is an independent canal boat holiday company.
---
Blakes
• www.blakes.co.uk
Headers: Boating Holidays
Boating holidays available in France, Ireland and the UK. Canal narrowboats, river cruisers and yachting holidays are available.
The website is best viewed with Internet Explorer
---
Alvechurch Boat Centres
• www.alvechurch.com
Headers: Narrow Boat Holidays
Alvechurch has a fleet of narrow boats that are available for rental in various loactions in England and Scotland. All boats are Tourist Board inspected and given an English Tourism Council star rating each year. Book online or request a borchure.
---
Drifters
• www.drifters.co.uk
Headers: Canal Holidays
With Drifters you can rent one of their narrowboats or book a holiday on a Drifters hotel boat. Routes available throughout England.
---
Connoisseur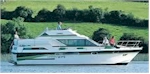 • www.connoisseurafloat.com
Headers: Boating Holidays
Connoisseur has a large fleet of cruisers available for hire throught the UK, Ireland and Western Europe. Book online or request a brochure.
---
Black Prince
• www.black-prince.com
Headers: Narrowboat Hire
Black Prince has a fleet of narrowboats from 2 to 10 berths. They have several bases in England and Scotland. You can check availability and book online. All bases have free car parking.
---
Viking Afloat
• www.viking-afloat.com
Headers: Narrowboat Holidays
Viking has a fleet of 7 different narrowboats available for hire throughout central England and the Welsh borders. Prices quoted include fuel, gas and VAT. Car parking, bed linen and life jackets are free. You can check availability and book online or request a brochure.
---
Foxboats
• www.foxboats.co.uk
Headers: Narrowboat Holidays
Foxboats is based near Cambridge and covers East Anglia and the East Midlands canal and waterway system. The fleet includes 2 to 8 berth narrowboats. All boats are fully equiped and include freshly laundered bedlinen and towels as well as colour TV and other essential electrical equipment!
---
Brittany Ferries
• www.brittany-ferries.co.uk
Headers: River Cruising in France
Brittnay Ferries is offering self drive river cruises throughout the west of France, from Brittany down to Aquitaine.
---
Kingfisher Boating Holidays
• www.boatingholidaysireland.com
Headers: Boating Holidays Ireland
Cruise the River Shannon and the Erne. Kingfisher's tiller steered barges were built in 2004 especially for use on the Irish waterways. All barges sleep 8 people and are fully equipped. Pick up is from Quivvy Marina in Dublin.
Can't find it?
Try our search engines, price comparison and online auction pages.