Children's Clothing page 3

Reviews and ratings of quality, hand-picked, UK websites
---
Next Directory
• www.next.co.uk
Headers: Women, Lingerie, Men, Children, Homeware, Electrical, Gifts, Flowers, Gift Vouchers
Next Directory is the UK's largest direct home shopping company. You can shop online, on the high street and by telephone. (Next has hundreds of high street stores throughout the UK). The website also has a "quickshop" feature - if you know the code numbers of the goods you want to order you can just enter these. You can pay by credit card or you can open a Next account and you will receive a monthly statement. There is a small charge if you order a copy of the Next Directory.
• Special Features: Returns are free on account purchases. Next day delivery on flowers.
• Connection Service: Connection service available on freestanding washing machines, washer dryers and dishwashers. Your old machine must be disconnected first. They will also dispose of your old appliance. Charges apply.
---
Nike Store
• http://store.nike.com
Headers: Sports Clothing and Equipment
Impressive Flash website. Large range of sports footwear, clothing and accessories for men, women and children from Nike. Accessories include fitness accessories, heart reate monitors, goggles, watches, sports socks and swimwear.
Categories include: Action Sports, All Conditions Gear, Basketball, Football, Golf, Jordan, Mens Training, Nike+, Running, Rugby, Sport Culture, Swim, Tennis, Womens Training
• Free UK Delivery on orders >£150
---
Patra Silk
• www.patra.com
Headers: Women, Men, Children, Bedding
Luxury. Full range of clothing for men, women and children with a twist - all the items are either silk or silk mix. And its not just clothes here. You can get wonderful silk sheets, silk quilt covers, silk quilts and silk pillow cases. Patra Silk can be found at Child's Hill, London.
• Special Features: 21 day returns policy.
• International Delivery Available
---
Penrose Outdoor
• www.penroseoutdoors.co.uk
Headers: Ski Gear, Snowboards, Tents, Folding Campers, Rohan Clothing, Children's Clothing, Child Carriers, Rucksacks, Sleeping Bags, Hats & Headgear, Land Navigation, Torches, Boots & Socks, Walking Poles
Based in Truro, Cornwall, Penrose Outdoor offers a great range of tents and folding campers plus outdoor clothing and an assortment of accessories. Very good for snow gear. There isn't the range of camping and hiking accessories you will find in, say, Field and Trek, but there is a very good choice in the categories listed.
---
Pure Collection
• www.purecollection.com
Headers: Cashmere
Wide range of cashmere clothing and accessories for men, women and children. All cashmere is sourced and manufactured in Mongolia and the designs are exclusive to Pure Collection. There is also a bespoke "made to order" service - email for details. Launched in 2002, Pure Collection is based in Harrogate.
---
Shoes Direct
• www.shoesdirect.co.uk
Headers: Ladies Shoes, Men's Shoes, Children's shoes, Accessories
Essex company Shoes Direct offers a large range of branded footwear, for men, women and children, in a wide variety of styles from formal to casual. Brands include Clarks, Ecco, K Shoes, Loake, Rockport, Barker and many more, all at competitive prices. Accessories include the usual suspects - bags and belts plus clear stackable shoe boxes. Search by brand.
• Free Delivery on orders >£30
---
Simply Swim
• www.simplyswim.com
Headers: Accessories, Baby Swimwear, Bags, Boys Swimwear,

Clothing, Girls Swimwear, Goggles, Ladies Swimwear, Learning to Swim, Mens Swimwear, Pool Footwear, Pool Games and Toys, Swimming Caps, Towels, Training Aids
Swimwear for the whole family, from occasional to competition swimmers, to suit all levels. Featuring top brands such as Speedo, Zoggs, Aquasphere and Australian brand Rival. Plus there is a comprehensive learn to swim section full of the latest approved aids to help younger members of the family to learn to swim safely. Simply Swim is based in Whitstable, Kent.
• Special Features: 28 day returns policy. Live website help.
• International Delivery Available
---
Sportzwear
• www.sportzwear.com
Headers: Sportswear, Accessories.
Sportzwear offer discounted big brand sportswear, surfwear, skate/boarders clothing and designer clothes for both adults and children. Brands include Abercrombie, Ecko, Bear USA, Ben Sherman, Reebok, Nike, Adidas plus many more. There is also a good range of sporting accessories such as duvets, towels etc with the name of your favourite team. Discounts are available for larger orders on a sliding scale, starting with 5% off orders > £50, and ending with 20% off orders >£250. Sportzwear is based in Larkfield, Kent.
• Free Delivery
---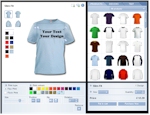 Spreadshirt Designer
• http://designer.spreadshirt.de

Headers: Personalised Clothing and Printing
Design your own T-shirts online with a very simple to use interface. You can choose the font, text size, text colour and print type plus upload you own design (or choose from one of theirs). There is a wide range of products, including children's sizes, polo shirts, tank tops, sweatshirts, hoodys, jackets, underwear, bags, hats plus lots more. Products are quality branded clothing from names such as Fruit of the Loom, Anvil, Triumph and Jerzees. Spreadshirt GmbH is based in Leipzig, Germany, and ships to countries throughout the EU.
• Free Delivery on orders >£350
---
Thekidswindow.com
• www.thekidswindow.com
Headers: Clothing, Baby Goods, Pushchairs, Toys & Games, Furniture, Gifts
The Kids Window not only supplies fine quality designer childrenswear, footwear and Christeningwear - brands stocked including Diesel, OshKosh, Versace, Marese, Dr. Martens and many more - there is also a very good range of toys, superb children's furniture and branded prams and pushchairs. The site is designed for use by buyers all over the world, and visitors can buy in Sterling, US Dollars or Euros. Gifts can be delivered direct to recipient or to a labour ward.
• Gift Wrapping: £1.99 includes gift wrapping and personalised message.
---
Trainerstation
• www.trainerstation.com
Headers: Men's Trainers, Kid's Trainers, Women's Trainers
Branded fashion and retro trainers for men, women and children at discounted prices. Brands include Adidas, Armani, Rebbok, Puma, Prade, Hugo Boss, Nike, Paul Smith and Paul & Shark. Trainerstation is owned by Brown Bag Clothing of Macclesfield.
---
TShirt Studio


www.tshirtstudio.com
Headers: Personalised T-shirts (Adults & Children), Mugs, Mouse Mats, Canvas Bag, Teddy Bear with T-Shirt, Polo-shirt (Adults)
Not just T-shirts, but other personalised items are also available with TShirt Studio. You can have just text, or you can upload your own image as well. You can send your order by post if you have an image you would like to use that is not on your computer. TShirt Studio is based in Faringdon, Oxfordshire.
• Special Offers: There is a 10% discount for orders over £50.
• Free Delivery
---
The White Company
• www.thewhiteco.com
Headers:Bedroom, Bathroom, Cloths & PJs, Dining Room, Little White, Furniture, Gifts
The White Company offers a range of stylish products for the home, mainly in white. Almost everything they sell has been designed exclusively for the company. Founded in 1994 as a mail order outlet, the White Company now has 6 stores throughout England, with plans for more in the pipeline.
• Special Features: 3 months returns policy!
---
WildDay.com
• www.wildday.co.uk
Headers: Womens Ski Wear, Mens Ski Wear, Junior Ski Wear, Womens Outdoor Clothing, Mens Outdoor Clothing, Kids Outdoor Clothing, Footwear, Travel Gear, Wild Innovations, Tents & Accessories, Camping Equipment, Caravanning, Beach & Surf
WildDay have a very large range of outdoor clothing and outdoor gear, including a very good range of tents, all from leading brands and at very reasonable prices. You can also buy binoculars, watches, GPS systems, compasses - in fact most things you would need for a successful camping or caravanning trip, as well as ski and snowboarding gear. WildDay is based in Nairn, Scotland.
---
Your School Uniform
• www.yourschooluniform.com
Headers: School Uniforms
Hassle free buying for cheap but quality, durable, branded and non branded, basic school uniforms in a variety of colours. Additionally, schools can sign up to the Your School Uniform bespoke school uniform program - each school that signs up to YSU gets a personalised section on the site. YourSchoolUniform is based in Swindon.
Can't find it?
Try our search engines, price comparison and online auction pages.