DNA Testing

Reviews and ratings of quality, hand-picked, UK websites
---
The first three websites listed here are UK bioscience companies that do DNA testing and DNA storage.
For anyone lookng for information on DNA, we follow up with some excellent websites that explain what DNA and DNA testing is, and how it works.
---
Cellmark
• www.cellmark.co.uk
Headers: DNA Test Services
Cellmark is accredited by the Ministry of Justice as a body that may carry out parentage tests. They can offer advice, take DNA testing registrations over the phone, or online and can manage the whole sampling and testing process. You can download a copy of their leaflet, "What will you advise?", on making the right DNA testing choices.
Cellmark is based in Abingdon, Oxfordshire.
---
DNA Bioscience
• www.dna-bioscience.co.uk
Headers: Paternity Explained, DNA Test Services
DNA Bioscience provides court approved DNA paternity tests plus other DNA related testing such as sibling analysis, grand-parentage, twin zygosity test (ie are they identical or fraternal), aunt/uncle/1st cousin analysis, ethnicity and more. The website is fascinating even if you don't want one of the tests! The tests vary in price and start from around £150. DNA Bioscience is part of DNA Structures LTD and is based in Chelmsford. All laboratory directors hold doctorate degrees in DNA technology and are licensed for paternity testing.
---
DNA Products
• www.dnaproducts.com
Headers: Family History DNA Kits, Baby DNA Kits, Personal DNA Kits, DNA Gifts
DNA Products is offering kits that allow you to store your DNA, and in the case of the Baby DNA Kit, order a full DNA profile at the same time. The cost is around £90 for a full profiling kit, which includes a profiling pack, a storage pack, full instructions, a 16 page guide to DNA, DNA charts and a DNA profile card. For other kits, you have the option of ordering a profile after the kit arrives. You can also buy DNA personalised T-shirts. The DNA is stored using a technology called the FTA card which was devised by Whatman plc, a British bioscience company with operations worldwide. It is thought that using this technology, DNA can be stored indefinitely, although because of the newness of the technique, it can only be proven to last for 15 years in the case of blood DNA and 5 years in the case of DNA taken from the mouth. The specific product here is CATGee, a DNA storage technique developed by David Nicholson Associates, a biotech company which owns and operates DNA Products. The UK offices are in Bath, Somerset.
Information on DNA
DNA from the Beginning
• www.dnaftb.org
Headers: Classical Genetics, Molecules of Genetics, Genetic Organization and Control
This site is for those of you who want to understand the science of DNA (DeoxyriboNucleic Acid) and genetics. The text takes you right from the very basics through to more advanced concepts and is pitched for the layman. The site is therefore suitable for children studying the subject at school or for interested adults. There is a photo gallery, animations plus video and audio clips.
---
Scientific Testimony
• www.scientific.org
Headers: DNA Testing: An Introduction For Non-Scientists
If you are looking for something a little more challenging but still accessible by non scientists, Scientific Testimony, an online science journal, provides an illustrated explanation of DNA testing. Scientific Testimony is written primarily for interested parties in legal proceedings and is written by the faculty and students of the University of California.
The Why Files is operated by the University of Wisconsi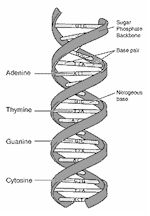 n and has an interesting and informative article on DNA fingerprinting.
In addition there is an extensive archive of articles on science, technology and environmental topics. The articles are not just for university science students but are easy to read and are accessible by the rest of us!
Can't find it?
Try our search engines, price comparison and online auction pages.