Corporate Activities & Team Building

Reviews and ratings of quality, hand-picked, UK websites
---
Activity Gifts
• www.activitygifts.co.uk
Headers: Flying Experiences, Driving Experiences, Action Activity Gifts, Classic Experiences, Indulgence Gifts, Water & Sport Gifts, Everything Else, Gift Vouchers, Corporate
Great selection of activity experiences to suit all ages and tastes. Plus Gift Vouchers and corporate incentives. Flexible voucher system gives the recipient the opportunity to choose the date and location on which to live their dream, or if you prefer, you can arrange the date upon booking.
• Special Features: 150% Price Promise! If within 3 days of purchase you find the same experience anywhere on the web at a cheaper price, then they will refund you 150% of the difference.
---
Activity Superstore
• www.activitysuperstore.com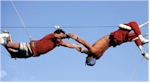 Headers: Fly, Drive, Outdoor, Pamper, For Two, Lifestyle, Fame, Teen & Family, Water, Group Activities, Gifts, Activity Cheques, Corporate
Huge range of experiences suitable for most ages and tastes, plus gifts include aniversary newspapers and hampers. Vouchers are valid for 9 months, but can be extended by an additional 6 months. The Activity Superstore is based in Saffron Walden, Essex.
• Special Features: Activity cheques for those of you want to give an experience as a gift but don't know which to choose.
• Gift Service:As well as the standard voucher pack, there is also a boxed gift pack if you are giving an experience as a gift.
---
Buyagift.co.uk
• www.buyagift.co.uk
Headers: Driving, Flying, Relaxing, Wet'n'Wild, Ultimate Gifts, Other Gifts, Adrenalin Zone, Other Activities, Traditional Gifts, Gift Vouchers, Corporate, Personalised Gifts, Personalised Vouchers
Easy to navigate website offering a wide range of experience day gifts from Ferrari and rally driving days to hot air ballon rides and health spas. Or maybe you fancy a plot of land on Venus? (Don't forget your breathing gear!). Lots of unusual gifts such as an Andy Warhol Style Portrait. Also you can buy flowers, wine and hampers here. Buyagift is based in Enfield, Middlesex.
• Special Features: Price promise guarantee that if you purchase any gift experience from them and within 14 days you find the same experience advertised elsewhere at a lower price, they will refund 120% of the difference.
• Special Features: Money Vouchers are available in addition to specific experience vouchers. Plus you can purchase personalised vouchers and boxed gift sets.
• Special Offers: £5 discount. Enter the code 170274 at the basket.
---
Days To Amaze
• www.daystoamaze.co.uk
Headers: Driving Days, Flying Days, Water Days, Pamper Days, Gift Ideas,

Corporate Days, Ferrari Hire, Lifestyle Gadgets , Gift Vouchers
Large range of experiences, including many unusual ones, from driving Ferraris to Bear and Orca Watching on Vancouver Island to cookery lessons with a top chef. Or maybe you fancy sleeping with the SAS or what about tree camping?! Also a very wide range of corporate activites available. Vouchers good for 10 months, and can be extended for a fee. In addition there is the gift section which includes things such as owning a share in a football club and aniversary newspapers. Days to Amaze Ltd is based in Dorridge, Solihull.
• Special Features: Open Gift Vouchers from £10 to £1000.
---
eXhilaration
• www.exhilaration.co.uk
Headers: Corporate Incentives, eXhilaration Vouchers, Driving, Spa, Air, Water, Adrenaline, Sport, Performing Arts, Gourmet & Culture
eXhilaration has hundreds of experiences on offer from driving military vehicles to cookery courses with Delia Smith. Excellent search - you can search by person, keyword, price or location.
• Special Features: Open Gift Vouchers available from £50 to £500.
---
Macdonald Hotels
• www.macdonald-hotels.co.uk
Headers: Hotels, Special Breaks, Health & Beauty, Restaurants, Weddings, Business, Meetings & Events
There are over 60 luxury Macdonald Hotels throughout

England and Scotland; from contemporary city centre hotels to manor houses in their own grounds. Each hotel has detailed descriptions of accomodations, restaurant, event and conference facilites plus location map. Many of the hotels have leisure club and spa facilities and operate special health and beauty/relaxation breaks. Some of the hotels also have their own championship-standard golf course. Macdonalds operate special breaks, including themed breaks such as "murder weekends", plus, classical music lovers might like to check out their programme of summer concerts.
---
Thruxton Motorsport Centre
• www.thruxtonracing.co.uk
Headers: Circuit Driving, Kart Racing, 4x4 Driving, Aerobatic Flying, Young Drivers, Corporate Packages
Thruxton Motorsport Centre has fleet of supercars consisting of the latest cars from Ferrari, Porsche, Lamborghini, MG, Mercedes-Benz and Lotus. Gift packs are valid for 1 year from date of purchase and they operate on both weekdays and weekends with the season running from February to December. Thruxton Motorsport Centre is close to Andover, Hampshire.
---
Action Days UK
• www.actiondaysout.co.uk
Headers: Corporate Events - Team Building, Shooting Events, Motor Sport, On The Water, Other Activites
Team building days, activities and events in Dorking, Surrey - Ideal for London corporate clients. Locations are in Sussex, Surrey, Nottingham and Central London.
Keywords: paintball london
Can't find it?
Try our search engines, price comparison and online auction pages.