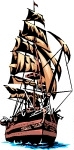 Ferries

Reviews and ratings of quality, hand-picked, UK websites
---
DFDS Seaways
• www.dfdsseaways.co.uk
Headers: Cruises, Ferry Services, Holidays
DFS is offering city cruise breaks to Amsterdam, Hamburg and Copenhagen plus 2 night mini cruises. There is also a variety of holiday options such as cottage holidays, tailor made ouring holiday, Legoland Denmark trips and wintercruises. There is also the ferry service which runs from Newcastle and Harwich to Germany, Holland, Norway and Sweden.
---
P&O Ferries
• www.poferries.com
Headers: Ferries, Minicruise
P&O Ferries offers a wide range of routes: Dover to Calais, Portsmouth to Bilbao, Portsmouth to Cherbourg, Portsmouth to Le Havre, Portsmouth to Caen, Hull to Rotterdam and Hull to Zeebrugge. In addition there are also various crossings from Dublin, Larne and Rosslare to the UK mainland and Cherbourg. Its very simple to either book or get a quote online - just fill in the details. The website has a lot of useful information for the traveller abroad (click on Travel Planning) and lots of ideas to keep the children occupied in their Just for Fun Section. P & O operate a frequent traveler loyalty scheme. For people interested in cetacea, P&O are offering whale and dolphin watching special mini cruises to Spain.
---
Brittany Ferries
• www.brittany-ferries.co.uk
Headers: Book Online, Holidays, Breaks, Routes & Timetables. Our Fleet, Brochures
Brittany Ferries have routes out of Portsmouth, Poole and Plymouth to Caen, Cherbourg, St Malo, Roscoff and Santander. Save costs on fares by booking online.
---
Caledonian MacBrayne
• www.calmac.co.uk
Headers: Islands & Routes, Timetables/Fares, Special Offers, Book Online, Island Hopsctoch/Rover
With a fleet of 29 vessels, Caledonian MacBrayne sails to 22 islands and 4 peninsulars on the West coast of Scotland. You can book single/return ferry crossings or take a grand tour with one of their Island Hopscotch tickets. Take your car or go by foot.
---
Condor Ferries
• www.condorferries.co.uk
Headers: Times & Fares, Destinat;ions, Holidays,Special Offers, Day Trips, Duty-Free Sales, On-Borad, Freight
Condor Ferries operates out of Weymouth, Poole and Portsmouth with routes to Cherbourg, Guernsey, Jersey and St Malo.
---
Hoverspeed
• http://www.hoverspeed.com/
Headers: Booking, Shopping, Travel Extras, Holidays & Hotels
If you want to get across the channel fast, try Hoverspeed. They operate Dover-Calais crossings daily and take vehicles and foot passengers. You can also take your pet.
---
John O'Groats Ferries
• www.jogferry.co.uk
Headers: Tours, Ferry Service, Wildlife Cruise, The Orkney Express Bus
Passenger only ferry service from John O'Groats to Orkney every day, weather permitting, from 1/05 - 30/09. They also operate a 90 minute "wildlife cruise" where you can see arctic skuas, storm petrels, colonies of guillemots, puffins, razorbills, kittiwakes, atlantic grey seals and more.
---
Norse Merchant Ferries
• www.norsemerchant.com
Headers: Passenger Fares, Book Onlnine, Routes & Scedules, Special Offers, Freight
Norse Merchant offers over 12 sailings each week between Belfast, Birkenhead and Dublin. They can take cars, transit vans, caravans, trailers, motorhomes and motorbikes. Fares for overnight sailings include evening meal and breakfast and day sailings include lunch and afternoon snack.
---
Norfolkline
• www.norfolkline-ferries.co.uk
Headers: Book Online,Ttariffs & Schedules, Information, Route, Brochures
Norfolkline operates several crossings daily between Dover and Dunkerque, with their fleet of 3 recently built 22000 tonnes ships. They are a member of the Pet Travel Scheme, which means you can take your pet with you.
---
Northlink Ferries
• www.northlinkferries.co.uk
Headers: Timetables, Fare Information, Brochure Request, Freight, Book
Northlink Ferries offers 3 sailings each day from Scrabster near Thurso to Stromness in Orkney and nightly sialings from Aberdeen to Lerwick in Shetland with some sailings to Kirkwall. Northlink operates a small fleet of 3 car/passenger ferries.
---
Orkney Ferries
• www.orkneyferries.co.uk
Headers: Book Tickets, Operations, Timetables, Carriage Conditions, Safety
Orkney Ferries operate 7 ferries between the Orkney mainland and 13 of the smaller Orkney Islands which includes North Isles, Rousay, Egilsay, Wyre, Shapinsay, Graemsay and North Hoy, Hoy and Flotta. Please note that the online booking service is not yet up and running.
---
Pentland Ferries
• www.pentlandferries.co.uk
Headers: Timetables, Prices, The Journey
Pentland Ferries, based in Orkney, has a small fleet and operates a one hour crossing from Caithness and St Margarets Hope, Orkney. There are 3 sailings in the winter and 4 in the summer. Go on foot or take your car/caravan/motorcycle or bicycle - dogs go free!
---
Red Funnel IOW Ferries
• www.redfunnel.co.uk
Headers: Fares & Timetables, Book Online, Travel Information
You can use Red Funnel to book Isle of Wight Holidays, day trips or just plain old ferry crossings. Take the car or go on foot between Southampton and East Cowes (30+ sailings per day)or on foot only between Southampton and West Cowes (non-bookable - just turn up).
---
Seafrance Ferries
• www.seafrance.com
Headers: Sailing schedule, Welcome on Board, Travel Information, What's On, Taste of France
SeaFrance has seven ferries crossing from Dover to Calais several times daily. In addition, you can also book holidays and short breaks in France on the site. From the search I performed, the prices seem to be very competitive, also.
---
Steam Packet Company
• www.steam-packet.com
Headers: Book Online, Special Offers, timetables/Fares, Package Deals, Destinations, TT, Port Information
Ferry crossings between the Isle of Man and Heysham, Liverpool, Dublin and Belfast. Campervans, cars, trailers, motorcycles and foot passengers catered for.
---
Stena Line UK
• www7.stenaline.com
Headers: 2005 Car Fares, 2005 Group Fares, Landbridge Fares, Fishguard-Rosslare, Holyhead-D'laoghaire, Holyhead - Dublin, Harwich - Holland, Stranraer-Belfast, Fleetwood - Larne, Onboard Offers, Q & A, Travel Extras, Weather
Stena Line UK offers ferry crossings to Larne, Belfast, Dublin Port, Dun Laoghaire, Rosslare and the Hook of Holland. Ferries are out of Fishguard, Fleetwood, Harwich, Holyhead and Stranraer. In addition, Stenaline has joined up with other ferry operators so that you can use the site to book car/ferry holidays to other European destinations including France, Germany, Holland, Spain, Norway, Sweden, Denmark and the Channel Islands.
---
Wightlink Isle of Wight Ferries
• www.wightlink.co.uk
Headers: Timetables, Fares, Book Online, Special Offers
Wightlink operates crossings from the mainland to the Isle of Wight everyday of the year on three routes and sails up to 200 times per day - a bit like catching the bus only more of them! Take your car or go by foot.
Can't find it?
Try our search engines, price comparison and online auction pages.