See also -
Gadgets
Places to Buy Details/Offers/Voucher Codes

Sudoko - Unlike all the other electronic games available, this one allows you to write your answers (and more importantly your possible answers) down as you play. The re-usable, wipe-clean grid means that you can play Sudoku where you like and as often as you like. Writing your possible answers is a key part of solving the puzzles - it's not going to be too easy to play the game without being able to do this! - www prezzybox.com


Christmas Salewatch: - Prezzybox has offered us a £5 discount off every order over £20 for our readers. Just enter the code EASYTORECALL at the checkout.

Firebox VoIP Cyberphone -
Talk isn't just cheap... Now it's free!
The VoIP Cyberphone is a fully functional USB-powered telephone which comes bundled with Skype™, free software which uses new VoIP (Voice over Internet Protocol) technology to allow you to make free calls to other VoIP Cyberphones and obscenely low cost calls to landlines and mobiles all over the world. All you need is an Internet connection: Broadband is bes - although the system still works with a 56k dial-up - www.firebox.com

Pocket Star Identifier -
Simply compare the stars you can see in the sky through one eye with the annotated and illuminated map you view inside Star Pocket through the other eye.
70 constellations and 1,500 stars demystified! - www.otherlandtoys.co.uk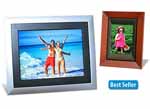 Digital Photo Frames - This is a 21st Century picture frame. No more fussing around with paper! No more "non-reflective" glass to try to see through. They display digital photos crisp and clear! And of course you can change the picture whenever you like. Indeed they will even change the picture for you as and when you program them to. The standard (5" x 7") frame will hold up to 50 images, and the larger AX (10" x 8") will hold 80 images - www.iwantoneofthose.com
---

Tetris 3 -
It's Tetris in real life! You actually drop the blocks into the playing area. The next piece to be dropped in is indicated by a light on the side of the tower. Players must pick the corresponding piece out of a pile, manipulate it into the position they want and then drop it into the game. Once you let go, the piece is guided down into the game by rail - a bit like dropping pieces into Connect 4. Once a line has formed you flick a switch on the side of the tower to indicate if it's your line or your opponents - www.firebox.com
20 Questions - This is the gadget that everyone is talking about. Its an

electronic version of the traditional 'animal, vegetable, mineral' guessing game. All you do to play is think of something, anything, then 20 questions asks you a series of, well 20 questions by means of an LED display and you answer either 'yes', 'no', 'sometimes' or 'unknown'. By asking questions like 'does it shine ?', 'does it bring joy to people ?' and 'is it man made ?' 20 Questions somehow works out what you are thinking. - www.firebox.com
Oid - There are certain moments in life when you come across something so remarkable that you can't believe what you are seeing or hearing. Well prepare for

one of those moments... Words simply cannot describe the amazing display that Oidz can give. Made by the same people as Magnetoids, these are the original and the best products on the market and are not one of the many cheap imitations available. These amazingly powerful space-age little magnets will have you utterly captivated. They are so powerful that they will pull towards each other even through your hand! That's not only what makes them so amazing though! - www prezzybox.com
• Special Offers: Prezzybox has offered us a £5 discount off every order over £20 for our readers. Just enter the code EASYTORECALL at the checkout.
---
Alloy Tax Disc Holder - Why settle for a

tacky clear plastic tax disc holder when you can have one of these beautiful, brushed alloy tax disc holders instead? - www.marshallward.co.uk
Can't find it?
Try our search engines, price comparison and online auction pages.