Garden Wildlife - UK Shops and Information

Reviews and ratings of quality, hand-picked, UK websites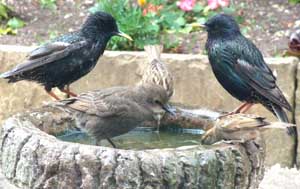 Information

Garden Wildlife Products

Books
Information on Wildlife Gardening
---
Crocus
• www.crocus.co.uk
Very good article on "Creating a wildlife-friendly garden" by Alan Titchmarsh. Enter "wildlife" in the search box to see the full range of articles.
---
RSPB
• www.rspb.org.uk/advice
Advice from the RSPB on making or choosing nestboxes for bats and birds; advice on feeding birds; advice on wildlife gardening plus information on identifying birds, helping sick or injured birds and lots more.
---

BBC
• www.bbc.co.uk
Classy contribution from the Beeb on on how to create a wildlife garden, whatever kind of space you have, plus virtual wildlife gardens! Also you can download Bill Oddie! - well Mini Oddie which is an animated desktop alerts piece of software for the latest on wildlife news, tips and information.
---
Wildlife Gardening
• www.wildlifegardening.co.uk
Lots of information on wildlife plants for the garden, wildlife and how to attract it, plus wildlife projects such as making a woodland habitat, a wetland garden, a wildlife garden and many more. This website is operated by Paradise Park Garden Centres (see below in wildlife garden shops).
---
Jeremy's Wildlife Web
• www.gardenwildlife.co.uk
This website is run by Jeremy Pidgeon who has a passion for wildlife gardening. The website has a personal feel to it, which I like, and contains lots of pictures that he has taken himself, plus lots of tips on wildlife gardening and UK wildlife in general.
---
Space for Nature
• www.wildlife-gardening.org.uk
This website is quite newsy and there are also discussion boards where you can post questions, reply to questions or just have a chin wag! In addition, there are lots of tips and articles about wildlife gardening. Very nice.
Shopping for Garden Wildlife Products
---
Garden Bird Supplies
• www.gardenbird.com


Headers: Bird Foods, Bird Feeders, Accessories
Put the feeder up, grab a pair of binoculars and then sit back and enjoy! Garden Bird Supplies has a very wide selection of wild bird food and is one of the UK's leading mail order suppliers of high quality wild bird and animal food, including its own trademarked "Ultiva" range, which is made to a secret recipe! The product range includes food mixes, live food, bird tables, nest boxes, bird baths, garden bird books, cds and dvds. Garden Bird Supplies is based in Witham, Essex.
• Special Features: Request a free copy of The Garden Bird Feeding Guide. No purchase necessary. You can also download the pdf quarterly newsletter which has news, competitions and readers letters.
---
Gardens and Homes Direct
• www.gardensandhomesdirect.co.uk
Headers: Garden Furniture, Garden Accessories, Garden Tools, Barbecues, Garden Structures, Garden Sheds, Children's Gardening, Garden Games, Children's Playhouses, Trampolines, Paddling Pools, Pets, Wildlife Care, Dog Food, Home Furniture, Home Furnishings, Home Entertainment, Televisions, Gifts
Large range of practically everything to do with the garden except plants and power tools - from hammocks to fountains, from sheds to garden clocks. Plus a small range of home furniture and furnishings. Gardens and Homes Direct is based in Glasgow.
• Free UK Delivery on orders >£50
---
Alana Ecology
• www.alanaecology.com
Headers: Tracking, , Boxes & Feeders, Optics, Microscopy, Sound Recording, Trapping, Entomology, Enviroment, Field Kit, Tools, Survey, Laboratory, Health & Safety, Bookshop, Kids
Brilliant site for anyone interested in wildlife and/or the outdoors. From infrared night vision scopes to dataloggers to crayfish traps - fantastic. With over 2500 products, there is a great range in every department. All products carry a 12 months guarantee.
Alana Ecology is based in Bishop's Castle, Shropshire.
• Special Features: 14 day returns policy
• International Delivery Available
---
Evengreener
• www.evengreener.com
Headers: Bins & Bags, Composting, Composting Accessories, Garden Furniture & Lighting, Garden Gadgets, Garden Tools & Accessories, Garden Wildlife, Planters & Containers, Weed & Feed, Wormeries, Home Helpers, Home Recycling, Energy Saving Lightbulbs, Kitchen Waste Composter, Water Butts, Watering Accessories, Watering Systems
The UK's leading manufacturer of water butts and home compost bins, but selling a wide variety of garden products from furniture to hedge shears, with over 200 products for sale on the website. Evergreener is owned by Blackwell which in turn is part of Straight plc, Europes leading supplier of recycling containers. Blackwell is based in Leeds.
---
Ferndale Lodge
• www.ferndale-lodge.co.uk
Headers: Vegetable Garden, The Potting Shed, Greenhouses & Equipment, Propagate & Protect, Feed & Pest Control, Storage & Furniture Covers, Cultivators & Weeders,Cutting & Long Reach Tools, Lawn Care, Watering Equipment, Training & ClimbingTub, Planters & Baskets, Garden Features & Outdoor Leisure, Light and Water Features & ornaments, Wild Bird Care, Garden in Comfort, Fetching & Carrying, Clearing & Composting
For the serious gardener. Large range of over 500 garden accessories and equipment plus greenhouses and a small range of garden furniture. Buy online or order a catalogue. Fast, easy to navigate website. Ferndale Lodge is operated by Suttons Seeds and is based in Paignton, Devon.
---
Garden Oasis
• www.gardenoasis.co.uk
Headers: Barbeques, Garden Decorative, Garden Furniture, Garden Structures, Gates & Railings, House & Home, Marquees, Outdoor Fun & Games, Patio Awnings, Patio Heaters, Plants & Bulbs, Pets, Ponds & Water Features, Sheds, Summerhouses, Tools & Equipment, Wildlife, Gift Vouchers
Wide range of stylish garden products from summerhouses to mole chasers! Well laid out and easy to navigate website. Garden Oasis is based in Tamworth, Staffs.
• Special Features: 14 day no-quibble guarantee and a 12 month warranty.
• Free UK Delivery
• International Delivery Available: Europe and the Republic of Ireland.
---
Gone Gardening.com
• www.gonegardening.com
Headers: Machinery, Outdoor Leisure, Plants, The Garden
Comprehensive range of gardening products including garden buildings, garden ornaments, garden accessories, garden tools, garden machinery, furniture, heating, lighting, cooking and, of course, plants. There is also a very good range of toboggans and trampolines. Gone Gardening is operated by Crocus.co.uk.
Special Features: 30 day returns policy.
DeliveryL Gone Gardening do not deliver to the Isle of Wight, the Isle of Man, the Scottish Isles, parts of Scotland, Northern Ireland and the Channel Isles.
---
Greenfingers Trading Ltd
• www.greenfingers.com
Headers: Garden Furniture, Garden Sheds, Buildings & Storage, Patio Heaters & Fire Baskets, Garden Games & Fun, Greenhouses & Winter Protection, Garden Lighting, Garden Water Features, Garden Ornaments, Garden Gates, Gazebos, Arches, etc., Fencing, Edging & Decking, Indoor Furniture, Indoor Style, Outdoor Style: Themes, Garden Tools & Equipment, Aches & Pains, Gardenwear, Wild Birds, Pest Control, Pots & Planters, Plantcare & Lawncare, Alfresco Dining
They seem to have thought of everything at Greenfingers.com, and with a good selection in each category too. In addition there is a host of useful gardening workshops, not to mention competitive prices. However, note that their product selection is more on garden accessories and buildings with no plant section.
• Special Features: Plant Finder and gardening information
---
Natural Collection
• www.naturalcollection.com


Headers: Nursery/Kids, Clothing & Accessories, Gardening/Wildlife, Beautiful Home, Cleaning/DIY, Well Being, Kitchen/Grocery, Outdoor Living, Personal Care, Energy Saving/Gadgets, Office/Study, Books/Cds/Games
Stylish and well chosen range of natural, organic, energy efficient, fairly traded and hand crafted products, ranging from clothing to solar powered garden sculptures. Buy online or request a catalogue. Natural Collection is based in Sunderland.
Natural Collection has won the Daily Mail/ Ideal Home Show Sustainable Retailer of the Year Award 2006, and the Observer's Ethical Retailer of the Year Award 2006.
• Free UK Delivery on orders >£100
• International Deliveries Available
---
Paradise Park
• www.paradisepark.co.uk
Headers: Natural Predators, Seeds, Pet & Animal Control, Bird Care, Pots Tubs & Hanging Baskets, Composting, Weed Control, Soil Conditioners, pH and Soil Testing, Plant Propagation, Pumps, Irrigation, Mammals, Disease Control, Organic Cleaners, Garden Sundries, Butterflies & Insects, Ornaments, Gifts
As well as the online store, Paradise Park operates 2 nurseries in the South East, including gardens that are open to the public. As you can see from the headers, there is a comprehensive range of gardening products with a focus on wildlife gardening.
---
Raw Garden


• www.rawgarden.co.uk
Headers: Barbeques, Cafe Furniture, Conservatory Furniture, Garden Furniture, Garden Games, Gazebos, Fire Pits, Lighting, Parasols, Shade Sails, Wild Birds, Weather Covers
Classy range of quality garden and conservatory furniture and garden leisure accessories at discounted prices. Plus a very good range of garden games, from giant chess to wigwams! Founded in 1999, Rawgarden is based in Hempstead, Essex.
• Free UK Mainland Delivery on orders >£75
---
Selections
• www.selections.com
Headers: Music, Film & TV, Books, Garden
As you can see from the headers, Selections offers a rather eclectic mix of products. Large selection of CDs, classical and modern, but specialising in classical, often at very competitive prices but also stock a good range of jazz, nostalgia, soundtracks and popular titles. Large selection of DVDs, videos and tapes. The book department stocks a wide range of deleted and remainder books covering most subject areas, so plenty of bargains to be had. Good range of classical sheet music. If jigsaws are your thing, then there is plenty of choice here. The garden department offers a good range of gardening accessories, from lawnmowers to bird boxes.
• Special Features: 60 day returns policy. Selections is based in Dorchester.
International Delivery Available
Books on Garden Wildlife from Amazon
Can't find it?
Try our search engines, price comparison and online auction pages.