Horse Racing - UK

Reviews and ratings of quality, hand-picked, UK websites
Horse Racing - Betting Websites
Fantasy Horse Racing
Miscellaneous Horse Racing Websites
---
Surewin Racing Club
• www.surewinracingclub.co.uk
Headers: Racing Tips
Take your horse racing seriously? Membership of the Surewin Racing Club gives you access to their library of over 700 racing systems, selections of 27 top tipsters, club newsletter, latest research, performance reports and exclusive racing information.
---
Ownaracehorse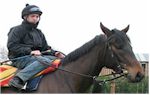 • www.ownaracehorse.co.uk
Headers:View the horses, Gift packs, Services, About us
Ownaracehorse.co.uk selects horses from trainers and offers all the benefits of part-ownership in small, all-cost-inclusive shares. You get part-ownership of one or more horses, access to trainers and stables, free or discounted race entry, a share of winning prize money, plus statistics and information online, including race videos. Ownership shares range from 0.1% to 10% of a horse, and typically range in value from £45 to £2000. When race day comes, you may have free members badges, but regardless you will be able to attend the racecourse, meet the trainer and jockey and get all the inside information.
---
BBC Sport
• http://news.bbc.co.uk
For all the latest news and results on horseracing, including photo galleries and Tic Tac guide.
---
Channel 4 Horse Racing
• http://www.racingpost.co.uk/c4/
All the latest news and results, a racing guide, racecourses, photo gallery, stats, betting and details of their TV coverage.
---
British Horse Racing Board
• www.britishhorseracing.com
Official website of the British Horseracing Board. Contains information on racecourses, horse racing tickets,major events, promotions, competitions, betting, race results, racehorse ownership, breeding, careers in racing, sponsorship, news and more.
---
Horse Directory
• www.horse-directory.co.uk
Horse Directory as details on UK race courses, trainers, racing clipart, syundicates, pedigrees and stud directory plus all the latest horse racing news from around the world.
Fantasy Horse Racing
---
Race Clubs
• www.raceclubs.com
Raceclubs.com is a virtually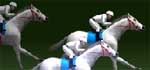 real 3D horse racing interactive game where members can own, train and race their own virtual horses daily against other members for real prize money. You get a free virtual horse when you activate your account plus bonuses. To allow you to get the hang of things, when you join you get a free horse which you can race free for 30 days. The site also offers regular promotions.
• Special Offers: Choose a free Horse and race it in free Races for 30 days.
---
Fantasy Horse Racing
• www.fantasyhorseracing.net
Play for free. Create and manage a stable of 15 horses, from a list of 500 UK horses, with a budget of £50 Million and race your horses when they race in 'real life'. The object is to score as many points as possible over the season. Cash prizes awarded. This website is sponsored by The Escorial Racing Club.
Horse Racing - Betting Sites
---
Betdaq
• www.betdaq.co.uk
Exchange Betting
Exchange betting allows you to cut out the bookmaker and bet directly against other people. which of course means that everyone gets better value as there is no bookmaker margin. In addition you are not up against expert odds makers as you can set you own and if anyone accepts then you have a wager! You can also trawl the site looking for odds that you think are good and accept bets from other people. It is like going to a traditional bookmaker and offering to place a bet only if he offers better odds. Your offer may not be matched immediately, if at all, but you can amend it at any point up to the time the market closes, once you see what odds are being matched. BETDAQ will calculate your potential returns, less commission, should your bet be accepted by someone else and win.
---

Betfair.com
• www.betfair.com

Exchange betting
Betfair is a market place where you can bet against other punters, not against a bookie, so the odds are almost always better.
Categories are sports, games, poker and casino.
There is also a forum for Betfair customers.
• Promotions: Free £10 bet when you join.
---
Sporting Index
• www.sportingindex.com
Spread Betting: American Football, Basketball, Boxing, Cricket (TV), Darts, Entertainment, Football - Euro, Football - Euro (Season), Football - Euro (TV), Football - International , Football - Intl (TV), Football - UK (Season), Football - UK / Eire, Football - UK / Eire (TV), Gaelic Games, Golf, Greyhounds, Horse Racing - Indices, Horse Racing - Other Bets, Ice Hockey, Politics, Rugby League, Rugby Union, Rugby Union (TV), Snooker, Weekend Specials
Games: Casino Games, Sports Games, Original Games (You can choose to play these for real or you can play for free - in this case you don't actually win anything though!)
---
Sportingbet
• www.sportingbet.com
Bets: Horse Racing, Football, Tennis, Euro Basketball, US Football, US Basketball, Baseball, NHL Hockey, Ice Hockey, Motor Sports, Golf, Greyhounds, Rugby Union, Rugby League, Cricket, Snooker, Darts, Boxing, Cycling, Handball, Politics, Specials,
Gaming: Casino, Poker, Games, Mobile Games, Backgammon
• Special Offers: £100 worth of free bets. Simply Join Sportingbet then stake £25 or more each week and receive a matching free bet up to a maximum of £25 per week every Tuesday for four weeks.
---
Victor Chandler Bookmaker
• www.vcbet.com
Sports Betting: American Football Basketball Boxing Cricket Dogs Entertainment Golf Football Football Specials Horse Racing Motor Racing Politics Snooker Rugby League Rugby 6 Nations Rugby Union Tennis US Horse Racing Cycling Darts Ice Hockey
Games: Several games including WhirlWin Lucky Star HiLo Gods Of The Nile PinBall Jackpot 15 Squares Fortune36 HiLo Bonus Triple Chance HiLo PokerBet Paradice Virtual Racing and more.
With all the games you can play for real, in which case you need to sign up, or for fun, in which case you don't.
• Special Offers: £100 bet for all new customers. Open an account with VC Bet and they will match your first bet stake with a free bet up to a maximum of £50. Then place five more consecutive real money bets of £10 or more and they will give you another £50 free bet.
Open an account with VC Games and get a £25 cash bonus. To get the bonus you must turn over £200 on VC Games within 30 days of opening your account.
Can't find it?
Try our search engines, price comparison and online auction pages.