Men's Clothing

Reviews and ratings of quality, hand-picked, UK websites
---
---
prev...... page 2
---
KJ Beckett
• www.kjbeckett.com


Headers: Men's Clothing Accessories, Wedding Accessories
KJ BeckettKJ Beckett is a leading luxury men's accessories retailer. They offer a large collection of fine quality, exclusive accessories from around the world including cufflinks crafted in England, fine silk ties from Italy, and unique hand-made men's belts from the USA. Not to mention handkerchiefs, gloves, socks, waistcoats and more. In addition there is now a male grooming section which includes shaving, skincare, bodycare, grooming tools and fragrances. KJ Beckett is based in Keynsham.
• Special Features: 18-day money back guarantee on all purchases. Live online chat.
• Free UK Delivery
• International Delivery Available
---

KJ Becket Shirts
• www.kjbeckettbespokeshirts.com
Headers: Custom Made Shirts, Gift Certificates
Create your own bespoke shirt design online with a wide variety of colours, fabrics and styles to choose from. There are 10 styles of collars, 8 styles of cuffs, 3 styles of body cuts, 5 styles of pockets and a monogram on the pocket or cuff. All shirts use bespoke tailoring, and are hand cut using paper patterns which are kept on file for quick ordering. Full measuring instructions on site. KJ Beckett is based in Keynsham.
• Free UK Delivery
• International Delivery Available
---
Kiniki
• www.kiniki.com
Headers: Boxers, Briefs, Swimwear, Thongs, Raunchy, Leisure
Kiniki designs and manufactures exclusive underwear and swimwear for men, including boxers, briefs, thongs and raunchy! Sizes range from Small to Extra Extra large. Very fast and easy to use website. Extablished in the 1970s, Kiniki is based in Newcastle, Staffs. Buy online or request a catalogue.
• Special Features: Giftfinder
• Free Delivery on orders >£30
• International Delivery Available
---
La Redoute
• www.redoute.co.uk
Headers: Womens, Women's Lingerie, Mens, Childrens, Shoes & Accessories
Hugh range of clothing for men, women and children from a large range of top brands. In addition to fashion items, there is also a large homewares department, AM.PM, which includes furniture and home accessories - these items are shipped direct from France. Buy online or request a catalogue. La Redoute is part of Redcats, which is itself part of PPR, a French group of home shopping companies - in fact PPR is the world's 3rd largest home shopping organisation. In the UK, La Redoute is based in Bradford.
• Special Features: 14 day free returns policy.
---
Lands' End Direct Merchants
• www.landsend.co.uk


Headers: Women, Men, Girls, Boys
Lands' End Direct Merchants offer a great range of mostly casualwear for all the family, including swimwear to flatter all shapes (!), plus a decent range of footwear and women's underwear. The site also features a "virtual model" where you can try out the outfits online! Other features of the site include a swimwear finder, Lands End Live, Shop With a Friend, personal monogramming, free hemming and gift boxing. Their guarantee is "If you're not satisfied with any item, return it at any time for an exchange or refund of its purchase price". Lands' End Direct Merchants is based in Rutland. Request a catalogue or buy online. Excellent website.
• Gift Wrapping: £5.00 per gift box.
• International Delivery Available
---
Littlewoods
• www.littlewoods.com
Headers: Women, Men, Kids & Toys, Sport & Leisure, Home & Garden, Appliances, Electronics, Jewellery & Gifts
Littlewoods, famous for many years for its catalogue service, now offers over 40,000 products online, including clothing and footwear for all the family, sports equipment, toys, furniture and home accessories, electrical equipment plus a wide range of garden equipment, tools and accessories. Request a catalogue or buy online.
• Special Features: Interest free payment plans available. Free 14 day returns policy.
• Free Delivery
• Special Offers: £15 off when you open a credit account
---
Lock & Co
• www.lockhatters.co.uk
Headers: Gentlemen's Hats, Ladies Hats, Gifts & Accessories, Gift Certificates
Rather smart hats for men and women for most occasions, from tweed caps to couture milinary for women. And they have been in the milinary business for a long time - Locks have been making hats since the 1670s! Buy online or visit the famous Locks store in St James Street, London.
---
Mad About Fashion
• www.madaboutfashion.co.uk
Headers: Accessories, Bags, Footwear, Headwear, Jackets, Jeans, Knitwear, Ladies, Mens, Shirts, Shorts, Skirts, Sunglasses, T-Shirts
Wide range of designer bags, clothes and accessories for men and women at up to 65% off RRP prices. Labels include Gucci, Prada, Armani, Fendi, Evisu, Lacoste, Stone Island, D&G and Hugo Boss. Mad About Fashion is based in Grays, Essex.
---
Mainline Menswear
• www.mainlinemenswear.co.uk
Headers: Designer Menswear, Gift Certificates
Wide range of discounted casual designer clothing for men from all major brands such as Armani, Hugo Boss, G-Star, Diesel and Burburry plus more. Current season stock only. Manline Menswear Ltd currently has two high street stores in Scarborough.
---
Marks & Spencer Online Store
• www.marksandspencer.com
Headers: Women, Lingerie, Men, Kids, Entertainment, Travel, Home, Technology, Flowers & Gifts, Food & Wine, M&S Money, Gift Vouchers
In addition to the standard, high quality M&S range of clothing for men, women and children, there is the ultra trendy per una due range for girls, which is not available in all stores. The home department features an impressive range of home accessories, from soft furnishings to bathroom suites. Not to mention a pretty large range of rather upmarket furniture for every room in the house, including the garden. M&S online is not just restricted to clothes and home accessories - peek into the technology department for phones, TVs, hi-fi, radios, iPods and digital camcorders and cameras. The food department is in two parts. Lunchtogo allows you to order business lunches online - type in post code to see if you are in a delivery area. With food ordering, you have to download an order form to present at participating stores.
• Special Features: 90 day free returns policy. You can sign up for the Marks & Spencer credit card, &more, online.
• Gift Service: Gift vouchers and gift wrapping available, plus you can have your order sent to more than one address.
• Free UK Delivery for Furniture, TVs and Flowers
---
isme
• www.isme.com
Headers: Womens, Mens, Babies & Kids, Electronics, Appliances, Home & Garden, Sports & Leisure, Toys & Games, Jewellery & Gifts
Isme is the online arm of Marshall Ward - many of you may be familiar with the Marshall Ward catalogue. Like most catalogues, they sell a wide range of clothing for all the family, plus household and leisure items. If you don't want to pay for goods immediately, you can set up an Assist account with them and pay monthly. No credit charge is made if you pay by the due date. If you prefer, you can order a catalogue online. Marshall Ward also offers a range of financial services including loans and insurance.
• Special Features: Free 14 day returns policy - goods will be collected. Sign up for the newsletter and be entered in a monthly draw to win £1000 to spend online at Marshal Ward.
• Special Offers: 10% discount with your first order.
---
MyTuxedo
• www.mytuxedo.co.uk
Headers: Tuxedos, Dress Shirts, Cummerbunds, Bow Ties, Cufflinks, Footwear
Excellent selection of evening wear at extremely competitive prices. As well as their own manufactured designs, the website also offers brands such as Daniel Hechter and Pierre Cardin. MyTuxedo is based at Harvington Business Park, Brampton Road, Eastbourne. Discounts available to wholesale customers who roder in bulk.
• International Delivery Available
---
Natural Collection
• www.naturalcollection.com


Headers: Nursery/Kids, Clothing & Accessories, Gardening/Wildlife, Beautiful Home, Cleaning/DIY, Well Being, Kitchen/Grocery, Outdoor Living, Personal Care, Energy Saving/Gadgets, Office/Study, Books/Cds/Games
Stylish and well chosen range of natural, organic, energy efficient, fairly traded and hand crafted products, ranging from clothing to solar powered garden sculptures. Buy online or request a catalogue. Natural Collection is based in Sunderland.
Natural Collection has won the Daily Mail/ Ideal Home Show Sustainable Retailer of the Year Award 2006, and the Observer's Ethical Retailer of the Year Award 2006.
• Free UK Delivery on orders >£100
• International Deliveries Available
---
Need Undies
• www.needundies.com
Headers: Men's Underwear, Swimwear, Women's Underwear
Need Undies offers a wide range of everyday undewear for both men and women at competitive prices. Brands sold are Sloggi, Triumph, Jockey, French Connection and HOM. At present there is not a huge choice in the swimwear section, offering only a small selection of FCUK beachwear. Need Undies is based in Pontifract, West Yorkshire.
• Free UK Delivery on orders >£25
---
Nike Store
• http://store.nike.com
Headers: Sports Clothing and Equipment
Impressive Flash website. Large range of sports footwear, clothing and accessories for men, women and children from Nike. Accessories include fitness accessories, heart reate monitors, goggles, watches, sports socks and swimwear.
Categories include: Action Sports, All Conditions Gear, Basketball, Football, Golf, Jordan, Mens Training, Nike+, Running, Rugby, Sport Culture, Swim, Tennis, Womens Training
• Free UK Delivery on orders >£150
---
Noflysonus
• www.noflysonus.com
Headers: Men, Women, Accessories, Footwear
Looking for trendy streetwear? Very good range of clothing for both men and women. Accessories include bags, underwear, hats and caps. Top brands such as Pucca, Emily Strange, Blythe, Chunk, Hello Kitty, DrunknMunky, Scary Miss Mary, 555Soul, Bico, Fine, Golddigga, Gimp, Ruby Gloom, Roman Dirge, DISNEY'S Ink & Paint and Gimp. Noflysonus is owned and operated by Premierserve Ltd and is based in Derby.
---
Nucleus
• www.nucleus-online.com
Headers: Ladies , Mens, Footwear, Accessories, Surfing Accessories
Leisure wear website providing leading brand fashion ranges from Etnies, Vans, Art, Emerica, Billabong and many more. Nucleus (owned by Island Leisure) has two shops in Swansea, which is the base of their operations.
• Special Features: 14 day returns policy.
• International Delivery Available
---
oki-ni
• www.oki-ni.com
Headers: Men's Clothing, Women's Clothing, Jewellery & Accessories


oki-ni works in collaboration with a range of brands such as Adidas, Duffer, Diesel and Evisu to create stylish clothing and lifestyle unique to oki-ni and only available online from oki-ni.com. All designs are produced in limited numbers to maintain rarity and uniqueness. New products are introduced on a monthly pbasis. Oki-ni is London based with a store in Savile Row plus outlets in Glasgow, Hong Kong and Stockholm. Great website.
• International Delivery Available: Worldwide
---

Orvis
• www.orvis.co.uk
Headers: Men's Clothing, Women's Clothing, Travel, Fly Fishing, Shooting, Dogs, Gifts
If you're feeling sporty, head over to Orvis which has been outfitting its customers for the sporting life since 1856. Offering country clothing for both men and women, Barbour outerwear, luggage, gifts, dog beds and fly-fishing tackle. Buy online or request a catalogue. Orvis is a large US retailer with 17 stores throughout the UK and UK head office in Andover.
---
Oxendales
• www.oxendales.com
Headers: Fashion, Lingerie, Nightwear, Footwear, Men, Home & Leisure, Electricals
Part of the JD Williams home shopping group, Oxendales offers value for money clothing in wide ranging fittings (12 – 34, with selected styles in 10 – 36) plus furniture, home accessories, audio visual equipment, small electricals, PAYG mobiles and kitchen appliances. Buy online or request a catalogue. Oxendales is based in Manchester.
• Special Features: You can add up to 12 different delivery addresses in your Oxendales address book.
• Free Delivery (with the exception of some heavy items)
---
Patra Silk
• www.patra.com
Headers: Women, Men, Children, Bedding
Luxury. Full range of clothing for men, women and children with a twist - all the items are either silk or silk mix. And its not just clothes here. You can get wonderful silk sheets, silk quilt covers, silk quilts and silk pillow cases. Patra Silk can be found at Child's Hill, London.
• Special Features: 21 day returns policy.
• International Delivery Available
---
Plain Lazy
• www.plainlazy.com
Headers: Men's T-shirts, Men's double sleeve T-shirts, Girls T-shirts, Hoodys, Beanies, Accessories, Lazybaby
Plain Lazy has a great range of clothes with a variety of Plain Lazy logos to choose from, including Lazybaby for newborns up to 2 years old! Accessories include Plain Lazy mugs, belts and wallets. In addition, you can also get Gratis pendants, wallets, chains, bracelets and key chains. So, if you know anyone who is a bit on the lazy side .........
---
Prowse & Hargood
• www.prowseandhargood.com


Headers: Men, Women
Prowse & Hargood are makers of two-fold formal cotton shirts for men and women along with a range of accessories that include handmade woven silk ties, handcrafted cufflinks, and cotton socks. Shirts are available in a variety of styles. Prowse & Hargood is based in Jessop Close, Clacton-on-Sea.
• Special Features: Win £100 worth of vouchers in the monthly prize draw (no purchase necessary).
• International Delivery Available
• Special Offers: Multi buy offers on all shirts and accessories.
---
Pure Collection
•www.purecollection.com
Headers: Cashmere
Wide range of cashmere clothing and accessories for men, women and children. All cashmere is sourced and manufactured in Mongolia and the designs are exclusive to Pure Collection. There is also a bespoke "made to order" service - email for details. Launched in 2002, Pure Collection is based in Harrogate.
---
Rohan
• www.rohan.co.uk
Headers: Mens, Womens, Travel Accessories
Rohan manufacture their own design range of quality outdoor and travel clothing which includes jackets, trousers, shorts, fleeces, shirts, T-shirts, suits, dresses and skirts plus underwear and accessories. All designs employ state of the art technology to ensure garments are either waterproof, coldproof, windproof or heatproof. Search by clothing type, climate or activity. Founded in 1975, Rohan has approximately 40 stores throughout the UK, with customer services based in Tongwell, Milton Keynes. Buy online or request a catalogue.
---
Route One
• www.routeone.co.uk
Headers: Accessories, BMX, Clothing, Inline, Shoes, Skate, ATB
Route One specialises in skateboards, skateboarding accessories, inline, all terrrain boards and BMX bikes plus street fashion clothing and footwear for both men and women. Clothing includes trousers, jackets, T-shirts, hoodys, shorts, caps, skirts and vests. In addition you can get DVDs, games, stickers and patches - all titles chosen to appeal to skaters, surfers and bikers. Brands include Adio, DC, Element, Etnies, Emerica, Osiris, Vans, Razors, Rollerblade, Salomon, Globe, Von Zipper plus more. You can request a catalogue online. Founded in 1989, Route One has stores located throughout the UK with its headoffice in Bristol. If you want to see the terms and conditions, click on "boring but important", found at the bottom of each page!
• Free Delivery on orders >£80. Extra charge for non mainland and the Highlands.
---
Samuel Windsor
• www.samuel-windsor.co.uk
Headers: Men's Handmade Leather Shoes, Socks, Accessories
Every pair of shoes on the site is handmade by Samuel Windsor craftsmen using premium grade leathers. Goodyear Welted construction allows the foot to flex in its most natural way ensuring maximum comfort, good looks and reliable wear. Each pair of shoes is supplied with shoetrees, a shoehorn, spare laces and individual shoe bags. The webiste is owned by Clifford James of Gladden Place, West Gillibrands, Skelmersdale, Lanc's. Buy online or request a catalogue.
• Special Features: Free 30 day reurns and no-quibble guarantee policy.
• International Delivery Available

---
The Savile Row Company
• www.savilerowco.com
Headers: Menswear, Womenswear, Gift Packaging, Corporate
Based in Savile Row itself, The Savile Row Company is a family business that has been making quality shirts since 1938. Clothes are supplied direct from their own warehouse, thus cutting costs considerably. In addition to shirts, the company now sells formal trousers and suits, casual shirts, trousers and pyjamas. There is also and expanding range of clothing for women. Accessories include a range of cufflinks, belts and ties. Buy online or request a catalogue.
• Special Features: Discounts available for members of the armed services. Club, corporate or regiment bespoke ties available.
---
Simply Swim
• www.simplyswim.com
Headers: Accessories, Baby Swimwear, Bags, Boys Swimwear,

Clothing, Girls Swimwear, Goggles, Ladies Swimwear, Learning to Swim, Mens Swimwear, Pool Footwear, Pool Games and Toys, Swimming Caps, Towels, Training Aids
Swimwear for the whole family, from occasional to competition swimmers, to suit all levels. Featuring top brands such as Speedo, Zoggs, Aquasphere and Australian brand Rival. Plus there is a comprehensive learn to swim section full of the latest approved aids to help younger members of the family to learn to swim safely. Simply Swim is based in Whitstable, Kent.
• Special Features: 28 day returns policy. Live website help.
• International Delivery Available
---
Sportzwear
• www.sportzwear.com
Headers: Sportswear, Accessories.
Sportzwear offer discounted big brand sportswear, surfwear, skate/boarders clothing and designer clothes for both adults and children. Brands include Abercrombie, Ecko, Bear USA, Ben Sherman, Reebok, Nike, Adidas plus many more. There is also a good range of sporting accessories such as duvets, towels etc with the name of your favourite team. Discounts are available for larger orders on a sliding scale, starting with 5% off orders > £50, and ending with 20% off orders >£250. Sportzwear is based in Larkfield, Kent.
• Free Delivery
---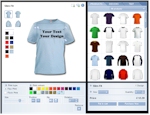 Spreadshirt Designer
• http://designer.spreadshirt.de

Headers: Personalised Clothing and Printing
Design your own T-shirts online with a very simple to use interface. You can choose the font, text size, text colour and print type plus upload you own design (or choose from one of theirs). There is a wide range of products, including children's sizes, polo shirts, tank tops, sweatshirts, hoodys, jackets, underwear, bags, hats plus lots more. Products are quality branded clothing from names such as Fruit of the Loom, Anvil, Triumph and Jerzees. Spreadshirt GmbH is based in Leipzig, Germany, and ships to countries throughout the EU.
• Free Delivery on orders >£350
---
Spunkystore
• www.spunky.co.uk
Headers: Men's Clothing, Women's Clothing, Accessories
Established in 1997, and now based in Brixton, Spunky.co.uk sells its own designer brand of clothes SP:UK as well as designer clothes from many other well known labels. The SP:UK brand showcases designs by independent designers and is essentially streetwear clothing for 25-35s, but don't let that put you off! Accessories include beanies, belts, bags and scarfs.
• Free Delivery on orders >£20
---
StoneIsland.co.uk
• www.stoneisland.co.uk
Headers: Shirts, T-Shirts, Trousers, Outerwear, Knitwear, Sweatshirts, Jackets, Jeans, Accessories
Men's casual clothing from the official C.P. Company, Stone Island Denims and Stone Island website. Note that these clothes are quality designer clothes and as such are not cheap! Buy online or use the website to find your nearest stockist.
• Free Delivery on orders >£300
---
Swerve Clothing
• www.swerve.co.uk


Headers: T Shirts, Tops, Knitwear, Shirts, Jeans, Jackets, Daniel Christian Collection, Accessories
Swerve Clothing UK sells a range of casual designer clothing for men. All the top names are there, including Armani, Versace, Calvin Klein, Tommy, Diesel, DKNY etc. Shirts, t-shirts, tops, jeans, skirts, jackets, and a limited stock of underwear. Swerve is based in Reading, Berks.
• Special Features: 14 day return policy.
---
The Urban Shop


• www.theurbanshop.co.uk
Headers: Streetwear, Hip Hop, Skate Wear, Graffiti, Camo, Organic Clothing, Clothing Auctions, Forum
The Urban Shop is a UK based company selling urban fashion clothing for males. There is a very wide range of goods on offer from dozens of top brands, such as Addict and DC Shoe. They also have a 'community' where you can listen to music, see pictures or join their forum. There is even a clothes auction.
• Special Features: Urban Shop Prize Draw. Register on the site to be entered.
• Free Worldwide Delivery
• International Delivery Available
---
Thomas Pink
• www.thomaspink.co.uk
Headers: Shirts, Accessories, Knitwear, Nightwear
Thomas Pink offers an extensive on-line range of men's and women's shirts from formal to casual plus knitwear. In addition they have a wide range of silk ties and cufflinks to complement the shirts. Goods are dispatched within three working days and can be shipped directly to the customer, or to any other worldwide address. To add a special finishing touch to the purchase all orders can be gift wrapped at no extra cost. An interesting snippet of information from Thomas Pink: "In the eighteenth century Thomas Pink made the best hunting coats money could buy. The expression "In the Pink" originates from the pride that English gentleman took from wearing one of Pink's coats. The old boy would be happy to know his traditions of quality and style are being continued." Thomas Pink is based in Palmerston Way, London.
---

Swagger & Swoon
• www.swaggerandswoon.com
Headers: Ties, Braces, Cufflinks, Cravats, Wallets, Handbags, Ladies Pashminas, Ladies Scarves, Ladies Cufflinks, Mens Grooming
From plain ties to novelty toys, from silk ties to cummerbunds, you will find it all here, including bow ties (in a variety of colours), clip ons and wedding cravats. Launched in December 2003, Tie Warehouse now has hundreds of ties available, with the range updated regularly. The Tie Warehouse is based in Swanscombe.
• Special Features: 14 day returns policy.
• International Delivery Available

---
TShirt Studio


www.tshirtstudio.com
Headers: Personalised T-shirts (Adults & Children), Mugs, Mouse Mats, Canvas Bag, Teddy Bear with T-Shirt, Polo-shirt (Adults)
Not just T-shirts, but other personalised items are also available with TShirt Studio. You can have just text, or you can upload your own image as well. You can send your order by post if you have an image you would like to use that is not on your computer. TShirt Studio is based in Faringdon, Oxfordshire.
• Special Offers: There is a 10% discount for orders over £50.
• Free Delivery
---
Universal Textiles
• www.universal-textiles.com
Headers: Thermal Underwear, Socks, Hats, Gloves, Scarves, Underwear & Nightwear, Clothing, Towels, Bedding, Homewears, Sleeping Bags
Great value on socks and thermal wear from Universal Textiles and one of the few places I've seen where you can buy 100% cotton socks - and at excellent prices. You can also get a host of other textiley type products from Egyptian cotton to Barbie beach towels. Highly recommended. Universal Textiles is based in Harrison Road, Leicester.
• Special Features: 30 day, no quibble, money back guarantee.
• Free Delivery on orders >£50
---
UnderU.com
• www.underu.com
Headers: Men's Designer Underwear & Swimwear
UnderU offers a large and very stylish range of more than 180 styles, for both men and women, from designers such as Versace, Calvin Klein, Hom, Zimmerli, Dolce & Gabbana and many more. You can search by designer or category. The men's categories are home, office, beach and sport. The women's lingerie on offer includes nightwear, hosiery and garters, thongs, basques, camisoles and sets. UnderU is based in the West Midlands.
• Free Delivery

---
Vapour
• www.vapourised.com
Headers: Skate, Mens Shoes, Mens Flip-Flops, Girls Shoes, Girls Flip-Flops, Kids

Shoes, Mens Clothes, Girls Clothes, Kids Clothes, Accessories, Bags, Belts, Wallets, Wristbands, Protective Gear, Aggressive In-Line, Recreational In-Line, Quad Skates, Scooters, Odds And Ends
Huge range of competitively priced skate and skateboarding gear plus a good range of branded youth clothing, footwear and accessories. Vapour is a family run business with a retail outlet in King Street, Hinckley, Leicestershire.
• Special Features: Buld your own custom skateboard online and save 10%
• International Delivery Available
---
We Are The English
• www.wearetheenglish.co.uk
Headers: Household Furnishings, Bedding & Towelling, Clothing, Merchanise, Books, CDs & Videos, Party Packs
Based in Nottingham, We are the English, supplies a range of merchandise with an England theme, from flags to car number plates plus some official FA merchandise. Clothing available for men, women and children. The site also features lots of quotations and articles plus a forum.
• Free Delivery on orders >£50
---
White Stuff
• www.whitestuff.com

Headers: Girl's Stuff, Men's Stuff, Accessories, Ski Stuff
White Stuff is the urban and lifestyle clothing brand, offering quality casual wear for men and women. The website has a dynamic zoom function which means you can see the clothes in great detail. White Stuff has over 20 stores located throughout the UK, with its headoffice in London.
• Special Features: Free returns.
• International Delivery Available
---
Woolovers
• www.woolovers.com
Headers: Classic lambswool, Ladies lambswool, Cotton knits, Country classics, Guernsey styles
Woolovers offers a great collection of knitwear for both men and women from around £20. All their garments

are 100% wool (except the cotton knits which are 100% cotton!) and fully machine washable. Garments include jerseys, cardigans, gilets, slipovers, Aran, fisherman's, huntsman's and cable sweaters. Use their sizing chart to make sure you get the right fit. You can also order a catalogue online. Woolovers is a family-owned business established in 1989 and based in Haywards Heath in West Sussex.
• Free Delivery on orders >£95
---
WildDay.com


• www.wildday.co.uk
Headers: Tents & Accessories, Camping Equipment, Sleeping Bags & Airbeds, Travel Gear, Inflatable Boats & Pools, Outdoor Clothing, Footwear, Womens Ski Wea,r Mens Ski Wear, Junior Ski Wear
WildDay have a very large range of outdoor clothing and outdoor gear, including a very good range of tents, all from leading brands and at very reasonable prices. Plus ski gear for all the family. WildDay is based in Nairn, Scotland.
Can't find it?
Try our search engines, price comparison and online auction pages.