Monopoly on the Web

An article by Graham Brown
Snippets
1. According to popular folklore, and indeed the line on the official Monopoly website, the game was invented by Charles Darrow. It was 1934 ... the height of the Great Depression and he devised it around his kitchen table. The truth is not quite as romantic ... "The Landlords Game" by Elizabeth Magie was granted U.S. Patent 748,626 in 1904!
2. Waddingtons produced special versions in World War II , Which were distributed by the Red Cross to POWs ... They contained hidden extras such as real money, compasses and maps !
3. Monopoly is the best-selling board game in the world. It is produced in 26 different languages.

Learning Monopoly by Video
There is a lot more to monopoly than just being lucky with the dice roll. In fact, much like Backgammon which uses dice, there is a massive amount of stategy and tactical tips that can help you play better.
Perhaps one of the nicest ways to learn is to sit back and let an expert explain the game. Check out the following video tutorial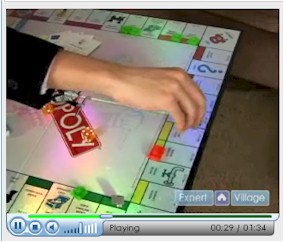 1. www.expertvillage.com/videos/monopoly-tips-intro.htm
The video takes you through all the rules and everything you need to know to improve your game. A very nicely produced video.
Top


Go Play Online!
1. GTK Atlantic
http://gtkatlantic.gradator.net/downloads.html
Play monopoly online for free against other players connected to the internet.
On the download page you are presented with a variety of downloads - just choose the one relevant to your operating system. Download the program and then install it. It should leave a shortcut on your desktop - just click this to get started.
The window you are presented with (see below) lists the games (if any available). Highlight one to play it and then click CREATE/JOIN GAME. If there are no games, create a game and wait. Or email a friend (or shout across the office - carefully).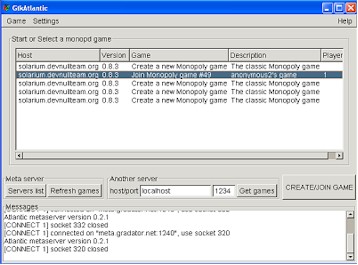 The game window looks like this: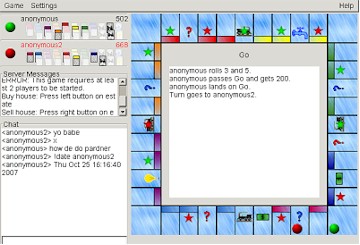 As you can see, there are chat facilities and although only 2 players are shown here, you can have more. UK players may have to adjust to the US place names!
We were pretty impressed with this game. It was a fast download, quick installation and we were playing within minutes. Very good.
2. Galactic Magnate
http://www.galacticmag.com
Play monopoly online for free against other players from all over the world. Chatrooms plus an online ranking system to find out how good you are compared to the other players.
Very similar to Monopoly and they have a lot of online games and leagues to play in.
3. Matt's Monopoly Page
http://members.lycos.co.uk/monopolyonline
Game is played on your computer only.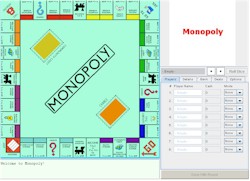 This is freeware written by a programmer called Matt and the interface is very nicely done. You can play against the computer or other people on your computer.
Future versions will allow online play against remote players - Matt is working on it!
4. Middopoly
http://www.jgames.com/middopoly
Game is played on your computer only.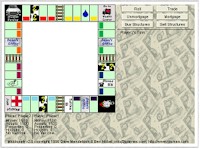 This is a Java based free Monopoly game that you play online - however you can only play with someone sitting next to you! Nice neat looking game.
Top


Free Monopoly Software (downloads)
There is not an awful lot of Monopoly freeware around on the net. But one of the best has to be Monopolie ...
1. http://monopolie.sourceforge.net/index.shtml
"Monopolie is the first Open Source clone of the original board game Monopoly for Windows! It works just the same and includes sound effects!"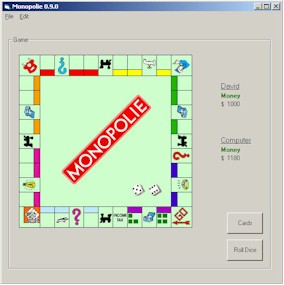 2. Monopoly Here & Now
This is a really big download but it's a free version of Monopoly with some pretty neat graphics. The game has also had a modern makeover.
http://www.alldownloadgames.com
3. Monopoly Download
http://www.acid-play.com/download/monopoly/
A freeware dos version.
4. Drazen's Monopoly INT v1.3
http://free-zd.htnet.hr/drazen/index.html
Freeware Monopoly.
Top

Monopoly Websites
1. Monopoly Collector www.monopolycollector.com/zinternet.html
This is a site with loads of info on Monopoly by a real expert. He also has a collection of over 1000 collectables
2. National Lottery
www.national-lottery.co.uk
Not really Monopoly but the National Lottery version and a bit of fun. "Play our online version of this classic game for your chance to win up to £30,000.
3. Commie Monopoly
members.aol.com/logixr/monopoly.htm
4. "You are a Monopolist"
www.economicswebinstitute.org
Not Monopoly but an interesting Business game where you can play at being a real Monopoly.

5. Monopoly Money
www.hasbro.com
Run out of cash? (We all know that feeling!) Anyhow, if its Monopoly money you need you can print out some more from here. Only problem is, its in dollars. But beggars can't be choosers!
6. Monopoly Strategy Guide
http://www.hasbro.com
Get the official run down on monopoly strategy straight from the horse's mouth.
7. How to Win at Monopoly
www.amnesta.net/other/monopoly
Fans will want to check out what Tim Darling has to say about winning at Monopoly.



Top

Buy Stuff
Monopoly games, software and books

Top