Murder Mystery Games & Events

Reviews and ratings of quality, hand-picked, UK websites
We begin with murder mystery party games and finish with Murder Mystery events and weekends.
---
Amazon.co.uk
• www.amazon.co.uk
Headers: Books, Electronics & Photo, Music, DVD, Video, Software, PC & Video Games, Home & Garden, Toys & Games
Although associated mostly with books of which they have a huge stock, covering nearly all subjects, Amazon now sells virtually everything. And their prices are surprisingly good. The electrical goods, for example, are very competitively priced. The site is very easy to navigate and there are also a huge selection of useful, and usually well written reviews for products. You can also search for goods available in the auction department plus you can get good deals from the many used items sold at Amazon.
• Special Features: 30 returns policy.
• Free Delivery on most orders >£15
Murder Mystery Party Games from Amazon
- these scenarios allow you to host your own murder mystery games
---
Murder Mystery Games
• www.murdermysterygames.net
Host your own murder mystery dinner party!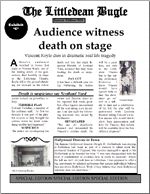 There are 7 plots you can download from Murder Mystery Games and games are typically around £20 to £30, depending on the number of guests. There is even one suitable for up to 200 guests but this one comes in at around £50. You do get the opportunity of downloading the introduction for free on all the games before you make up your mind.
Titles available are:
The Reading of the Will (for 6-8 guests)
Cudham Riding Club (for 14-40 guests)
The Final Curtain (for 7-14 guests)
St Cakes (for up to 200 guests)
The Last Gasp (14 to 40 guests)
The Auction (12 to 40 guests)
Farthingay Manor (for 6 guests)
Plots to download
---
Drinkstuff
• www.drinkstuff.com
Headers: Furniture, Gambling Stuff, Bar Accessories, Cocktail Equipment, Wine Accessories, Games Room, Kitchen & Dining, Fridges & Chillers, Branded Goods, Neon Signs & Light, Party Stuff, Glassware, Fancy Dress, Gifts & Gadgets, Signs & Mirrors, Adult, Outdoors
Very good range of drinking and party related gifts and gadgets, including stag and hen night gadgets, fancy dress for children and adults as well as food and drink accessories. Drinkstuff is based in Melbourn, Herts.
• Special Features: Price match guarantee plus a 30 day no quibble policy.
• Gift Wrapping: Small items £1.99, large items £2.99, very large items £3.99.
• Free Delivery on orders >£75
• International Delivery Available
---
OtherLand
• www.otherlandtoys.co.uk
Headers: Gift Ideas, RC Toys, Gadgets, Games, Discovery, Collectables, Outdoors
Weird games, electronic gizmos, whacky executive gadgets, also the "discovery store" has some nice scientific and educational activity items from a gold plated micro-stirling hot air engine to a 3D space projector. Lots of Lord of the rings stuff and usefully a battery shop where you can buy extra batteries for all of their items. Otherland Toys Ltd, Lee Valley Technopark, Unit 101, Ashley Road, Tottenham, London, N17 9LN.
• International Delivery Available
• Direct to Murder Mystery Games
---
Getting Personal
• www.gettingpersonal.co.uk
Headers: Personalised Gifts
Most of the personalised gift range from Getting Personal is exclusive and includes football gifts, calendars, posters, newspaper books, sports books, mugs and DVD greetings cards. The Personalised Calendar begins in any month you want and runs for a full 12 months. Getting Personal Ltd is based in Stamford New Road, Altrincham, Cheshire.
• Free Delivery
---
Murder Mystery Games
• www.hostamurdermystery.co.uk
Headers: Murder Mystery Box Games
Great range of murder mystery box games to choose from.
---
A1Gifts
• www.a1gifts.co.uk
Headers: Anniversary, Baby, Birthday, Candles, Christening, Drinking Games, Experience Days, Figurines, Gadgets, Personalised Gifts, Photo Frames, Remote Control
Large range of gifts for all tastes and occasions including wedding anniversaries, special birthday gifts, christening, bronze art and more. There is also an articles section where you can get information on baptisms, christenings, godparents and appropriate gifts. A1 Gifts is based in West End, Southampton.
• Special Features: Free gift reminder service. 21 day returns policy. Prize draw: Sign up to their email and you will be entered automatically. Loyalty scheme whereby you get 5% of your total spend with them in gift vouchers.
• Gift Wrapping: Full gift wrapping service with a choice of wrapping paper.
• Free UK Delivery on orders>£50
• International Delivery Available
Murder Mystery Evenings/Weekends
---
Fresh Weekends
• www.freshweekends.com
Headers: Experience Weekends, Gift Vouchers
Lots of ideas for those of you who want to get away for the weekend and do something a little bit different. The main categories are: Driving and Flying, Food and Drink, Golf, Murder Mystery, Outdoor Pursuits, Overseas Adventure, Spa and Pamper, Theatre, Visit London, Sailing and Cruising. Plus there are a few offbeat packages such as the Tribute to Fawlty Towers break in Harrogate, or the Interior Design Course for two.
Direct to Murder Mystery Weekends
---
Macdonald-hotels
• www.macdonald-hotels.co.uk
There are over 60 Macdonald Hotels throughout

England and Scotland. Many of the hotels have leisure club and spa facilities and operate special health and beauty/relaxation breaks. Some of the hotels also have their own championship-standard golf course. Macdonalds operate special breaks, including themed breaks such as "murder weekends", plus, classical music lovers might like to check out their programme of summer concerts.
---
Moneypenny Productions
• www.moneypennyproductions.co.uk
Murder mystery games, murder mystery parties and murder mystery weekends for private and public audiences. Public events held in Kent, Buckinghamshire, London and Surrey.
---
Murder Most Foul
• www.murdermostfoul.co.uk
Public murder mystery weekends held in France, Harrogate, Buxton, Durham, Leeds, York, Cambridge and the Lake District. Corporate and private parties also arranged.
---
Murder Mystery
• www.murder-mystery.co.uk
Publice events (weekends and evenings) held in Liverpool, Darlington, Swindon, Reading, Coventry and Sussex Weald. Alternatively, if you have a group, they arrange private parties at the location of your choice or they will recommend one in your area.
---
Murder Mystery Meals
• www.murder-meals.co.uk
Murder Mystery Meals holds murder mystery weekends in hotels at various locations accross the country. They will also organise private parties for groups between 12 and 30. Public event weekends are held in Gloucestershire and Warwickshire plus dinners in London.
---
Murder Mystery Weekends
• www.murdermysteryweekends.com
Arrange murder mystery weekends/events for your group throughout the UK. They also organise "public" events with prices person and these are generally held in Oxfordshire.
---
Murder Party
• www.murder-party.co.uk
Public event and private or corporate group events arranged. Locations for public events in Kent, Sussex and Cornwall.
---
Mystery Events
• www.mysteryevents.co.uk
Mystery Events has been arranging murder mystery and other events for groups since the late 1980s. They can organise the venue for you or will provide the event at a venue arranged by you. Events can be evening, daytime, dinner, weekends and over 5 days.
---
The Killing Game
• www.killinggame.co.uk
Provde murder mystery entertainments (weekends, evenings or dinners) at your home , a hotel, restaurant or other venue to suit you. In additionl they also run regular events for individuals at locations in Surry and Oxfordshire.
---
The Original Murder Company
• www.original-murder.co.uk
Offering day, weekend and evening murder mystery events throughout the UK, The Original Murder Company is run by former police officers who use storyline based on real-life crimes. Events are organised for corporate or private groups (no public events).
Can't find it?
Try our search engines, price comparison and online auction pages.