Personalised Items and Gifts

Reviews and ratings of quality, hand-picked, UK websites
See also:
Personalised Number Plates
Personalised T Shirts
Photobooks
Site Reviews
---
Accessorik
• www.accessorik.co.uk
Headers: Personalised Items
Large selection of personalised items from wall clocks to coat pegs, from jigsaws to mugs. Plus much more! Accessorik is based in Braintree Essex.
• Free UK Delivery
---
The Bespoke Gift Company
• www.thebespokegiftcompany.co.uk
Headers: Personalised Poem Gifts, Personalised Photo Gifts, Babies & Children, Gifts for Him, Gifts for Her, Silver Gems, Wedding Gifts
Very nice and sometimes unusual personalised gifts, including bespoke poems (love it!), canvas art, silverware, personalised CDs, glass and much more. There is also a special category for personalised gifts for babies and children. Lots of ideas if you are looking for a personal and unusual gift. The Bespoke Gift Company (formerly The Poetry Studio) is based in Banstead, Surrey.
• International Delivery Available
---
The Gift Experience
• www.thegiftexperience.co.uk
Headers: Aromatherapy Gifts, Baby Gifts, Birthday Gifts, Bottle Stoppers, Candles, Christening Gifts, Gift Experience Days, Other Occasions, Personalised Gifts, Photo Albums, Photo Frames, Soft Toys, Wedding Anniversary Gifts, Weddings, Christmas Gifts & Presents, Corporate Gifts
Established in October 2003, The Gift Experience is an internet retailer and offers a very wide range of quality gifts, with same day dispatch Monday to Friday. The personalised gift section is very good with over 250 items to choose from. The Gift Experience is based in Mereside Industrial Estate, Fenns Bank, Nr Whitchurch.
• International Delivery Available
---
Getting Personal
• www.gettingpersonal.co.uk


Headers: Personalised Gifts
Most of the personalised gift range from Getting Personal is exclusive and includes football gifts, calendars, posters, newspaper books, sports books, mugs and DVD greetings cards. The Personalised Calendar begins in any month you want and runs for a full 12 months. Getting Personal Ltd is based in Stamford New Road, Altrincham, Cheshire.
• Free Delivery
---
Withlovefrom
• www.withlovefrom.com


Headers: Engraved Silver Gifts
One of the UK's leading personalised gift shops. Wide range of quality giftware for all ages for weddings, christenings and other special occasions. Free engraving and choice of free personalised gift box with each gift ordered. Withlovefrom is owned and operated by Select Silverware Ltd, 13-17 Oak Street, Heeley, Sheffield, S8 9UB.
• Gift Wrapping: Free personalised gift box with each gift ordered.
• Free UK Delivery
• International Delivery Available
---
Kiki James London
• www.kikijames.com


Headers: Address Books, Journals, Photo Albums, Photo Frames, Wallets & Purses, Travel, Baby, Corporate Gifts, Guest Books, Men's Leather Goods, Ladies' Leather Goods
Stylish, quality leather goods from Kiki James. All products are made from high quality materials and can be embossed with initials, names, company logos, dates - whatever you wish. There are 3 types of embossing available.
• Gift Wrapping: All items gift boxed as standard, and there is also a bespoke gift wrapping service available.
• International Delivery Available
---
A1Gifts
• www.a1gifts.co.uk
Headers: Anniversary, Baby, Birthday, Candles, Christening, Drinking Games, Experience Days, Figurines, Gadgets, Personalised Gifts, Photo Frames, Remote Control
Large range of gifts for all tastes and occasions including wedding anniversaries, special birthday gifts, christening, bronze art and more. There is also an articles section where you can get information on baptisms, christenings, godparents and appropriate gifts. A1 Gifts is based in West End, Southampton.
• Special Features: Free gift reminder service. 21 day returns policy. Prize draw: Sign up to their email and you will be entered automatically. Loyalty scheme whereby you get 5% of your total spend with them in gift vouchers.
• Gift Wrapping: Full gift wrapping service with a choice of wrapping paper.
• Free UK Delivery on orders>£50
• International Delivery Available
---
AGH Personalised Gifts
• Personalized Genealogy Gifts, Incorporating Coat Of Arms And First Name Meaning
Headers: Genealogy Gifts
Personalized gifts for the person with practically everything - personalized genealogy gifts, incorporating coat of arms and first name meaning. Gifts include coat of arms. family name history, gift certificates, wedding stationery and more. AGH Personalised Gifts is based in Chesterfield, Derbyshire.
• International Delivery Available (contact for delivery quote)
---
All Jigsaw Puzzles
• www.alljigsawpuzzles.co.uk
Headers: Jigsaw Puzzles
You might expect a site that is dedicated to selling jigsaw puzzles to have a vast range - and this one doesn't disappoint. There are over 350 wooden jigsaws, 3D jigsaws, cartoon jigsaws, scenic, children's, nostalgia, even personalised, and puzzles suitable for both beginner and jigsaw addicts. This list is almost endless.Plus you can also buy jigsaw puzzle boards and jigrolls. All products a good quality and there is a 90 day money back guarantee. All Jigsaw Puzzles is based in Reigate, Surrey.
• Free Delivery on orders >£30
---
Angel Imagery Personalised Gifts
• www.angel-imagery.co.uk
Headers: Personalised Gifts
Personalised gifts including baby gifts, cuddly toys, door plaques, jewellery, jigsaws and much, much more. Use your own design, photo and/or text. No minimum order. Angel Imagery is based in Pontardawe, Swansea.
---
Buyagift.co.uk
• www.buyagift.co.uk
Headers: Driving, Flying, Relaxing, Wet'n'Wild, Ultimate Gifts, Other Gifts, Adrenalin Zone, Other Activities, Traditional Gifts, Gift Vouchers, Corporate, Personalised Gifts, Personalised Vouchers
Easy to navigate website offering a wide range of experience day gifts from Ferrari and rally driving days to hot air ballon rides and health spas. Or maybe you fancy a plot of land on Venus? (Don't forget your breathing gear!). Lots of unusual gifts such as an Andy Warhol Style Portrait. Also you can buy flowers, wine and hampers here. Buyagift is based in Enfield, Middlesex.
• Special Features: Price promise guarantee that if you purchase any gift experience from them and within 14 days you find the same experience advertised elsewhere at a lower price, they will refund 120% of the difference.
• Special Features: Money Vouchers are available in addition to specific experience vouchers. Plus you can purchase personalised vouchers and boxed gift sets.
• Special Offers: £5 discount. Enter the code 170274 at the basket.
---
Chocolate Trading Co
• www.chocolatetradingco.com
Headers: Chocolates, Recipes, Personalised Chocolate Boxes
All sorts of chocolate from around the world. You can choose by category including bars, drinks, organic, liquers, or by theme including latest, fun and funky, connoisseur, best sellers etc, or by cost or brand. The personalised chocolate boxes are ideal for personal and corporate gifts. And if you are hungry for information, read their article on cocoa and its origins or you might like to try some of their chocolate recipes. The Chocolate Trading Company has a shop located in the centre of Alderley Edge, Cheshire.
• Special Features: Large order discounts available.
• Gift Service: You can choose to send different products to different addresses. Personalised Gift Card with your own message printed on it for £1.50.
• International Delivery Available
Personalised Chocolate Boxes - suitable for businesses
---
Classic Memories
• www.classicmemories.co.uk
Headers: Personalised Car Illustrations
Custom car prints, complete with your own personalised registration number, by the British automobile artist Paul Bennett GMA. Choose from classic car prints, modern car prints and modern classic car prints. Very affordable and a great gift for that motoring enthusiast. Black and white or hand coloured. If you don't see your make of car, you can send in an enquiry.
• International Delivery Available
---
Confetti.co.uk
• www.confetti.co.uk
Headers: Shopping, Invitations, Suppliers, Gift lists, Fashion, Health & Beauty, My Confetti, Weddings, Venues
Everthing to do with Weddings and other occasions such as christenings, parties and Christmas. Large selection of stationery and table settings, from fun disposable cameras and creative invitations to delicious party chocolates, original stocking fillers and stylish favour boxes. In addition there is expert advice, humourous articles, useful links and ideas etc. A lot of the stuff is written by professional stand-up comic Rob Pointer and it's a very interesting read. This is a one-stop shop to make what is (hopefully) a one-off occasion a bit less stressful. Their website is operated from Windsor and Confetti also has a large shop in central London, at 80-81, Tottenham Court Road, London W1 and another at The Light, The Headrow, Leeds LS1.
---
Foto.com
• http://uk.foto.com
Headers: Photo Prints, Photobooks, Calendars, Greeting Cards, Photo Products, Posters & Photo Coallage, Canvas Photo, Webalbum & Prints
Wide range of photo printing options at very reasonable prices. Plus if you register you can store your photos online for free and present them in the form of a slideshow (if you want), allowing access to your family and friends, who, incidentally, can order prints direct from Foto.com.
• Special Offers: 30 free prints on every print order. Qualifying formats include 6x4'' and 6x4.4'' (15 photos 6x4'' + 15 photos 6x4.4'')
---
Great Little Trading Company
• www.gltc.co.uk
Headers: Bedtime, Furniture & Storage, Home & Safety, Out & About, Outdoor Fun, Toys & Games
Very large range of children's products, including toys, furniture, toiletries, pushchairs, travel accessories - and much more. Founded in 1995, GLTC is now a leading mail order and internet supplier based in Northampton. Buy online or order a catalogue. Excellent website.
• Special Features: 30 day returns policy.
• International Delivery Available
---
Magic Boomerang
• www.magicboomerang.com
Headers: Photobooks, Photocalendars, Photocards, Photoposters, Photomousemats, Photomugs, Photo Canvases
Personalised photo gifts/products. Get creative with all your digital images! It couldn't be easier - just upload your images and then use their online design tools to edit your photos and to design your photo gift. They will also put your images onto canvas, with sizes up to A0, 118.9 x 84.1 cm. Magic Boomerang is based in Aldershot.
---
MyBlankets
•www.myBlankets.com
Headers: Personalised Fleece Baby Blankets and Gifts.
A unique new baby or christening gift. Excellent range of personalised items for babies, including Taggies, Soft Toys, pictures and blankets. Secure online ordering. MyBlankets is based in Ticehurst, Eat Sussex.
• Free UK Delivery
• International Delivery Available - Please contact
---
My Mousemat
• www.mymousemat.com
Headers: Personalised Mousemats
Personalised mouse mats from mymousemat.com, custom printed from your own personal photo or picture. For bespoke, promotional, novelty and branded gift ideas. It couldn't be easier - simply upload your 800 x 600 image and design online. My Mousemat is based in Swindon.
• Free Delivery
---
My Nametags
• www.mynametags.com
Headers: Clothing Nametags
My Nametags sells personalised children's iron-on nametags and stickers. The nametags are machine washable and steriliser proof. Labels can be used on clothing, and equipment such as toys, CDs, lunch boxes etc. and have a 10 year guarantee.
• Free Delivery
---
Noble Macmillan
• www.noblemacmillan.com
Headers: Personalised Photo Albums, Photo Frames, Weddings, Scrapbooks, Visitors & Address Books, Journals, Notepads & Diaries, Accessories
Photo albums, photo frames, scrapbooks, social books, Buy photo albums and stationary online. Noble Macmillan provides a personalisation service on most items. Items can be personalised with initials, names, dates or a combination of your choice. Noble Macmillan is based in London SW7.
---
Orange Hedgehog
• www.orangehedgehog.co.uk
Headers: Personalised Products
Items that you can personalise include mugs, T-shirts, underpants(!), keyrings, jigsaws, underwear, bears, coasters, mousemats, prints, fridge magnets and more. You can use customise with your own designs or just use one of the designs provided. You can also upload your own designs and earn commission! Orange Hedgehog is based in Loughborough.
---
PhotoBox Ltd
• www.photobox.co.uk
Headers:Photo Books, Photo Prints, Wall Decor, Cards & Stationery, Calendars & Diaries, Home Gifts, Clothing & Accessories, Fun Stuff, Kids Collection
In addition to printing your digital photos, PhotoBox offers a wide range of services. Personalised gifts include etched glass, calendars, bags & cushion, framed photos and much more. Plus you can create a hardback book of your photos with Photobooks. There is an online photo sharing service and a variety of mobile phone services. And for those budding David Baileys out there, you can even sell your images online either with the pro gallery service or by integrating Photobox Printbutton into your own website. Photobox is based in Britannia Way, London NW10.
• International Delivery Available
• Special Offers: Sign up and get the first 40 prints free.
---
Shirt City
• www.shirtcity.co.uk
Headers: Customised T-Shits, Underwear, Caps, Lanyards, Cups, Teddy Bears, Other
Over 20 products you can customise, using your own graphics or theirs and with 30 typefaces to choose from. Clothing is by Fruit of the Loom, JT's, Continental and Hanes. Plus you can play the "Wet T-Shirt Game" online for free! Shirt City is based in Neu-Ulm, Germany.
---
Sleeping Solutions UK
• www.sleepingsolutions.co.uk
Headers: Beds, Mattresses, Bedsteads, Headboards, Bedding, Concepts, My First Bed
Browse the full catalogue of Silentnight products at Sleeping Solutions, who deal exclusively with this brand. Prices are very competitive. My First Bed is a range of customisable beds for young children and you can use the online wizard to pick and mix various features. Based in Hastings, Sleeping Solutions is operated by Sussex Beds which owns a chain of bed superstores in England.
• Free Delivery
• Delivery is mainland only.
---
Snapfish
• www.snapfish.co.uk

Headers: Free Online Sharing, Personalised Gifts, Photo Printing
Use Snapfish to store and share your digital photos for free and you or your friends can order prints directly online, choosing from your online album which has the facility for you to customise yourself. You can also edit your images online and order personalised photo cards and photo gifts. Prints are on photo quality Kodak paper. To get started, simply register for free and you will be given a password protected account to store your photos. The first 10 digital prints you order are free. The mobile service now includes a web to mobile function allowing users to send images from their accounts to their phone or to their friend's or family's phones.
• Special Offers: Get started with Snapfish and receive 20 free prints, free online photo sharing and free unlimited storage.
---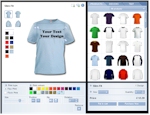 Spreadshirt Designer
• http://designer.spreadshirt.de

Headers: Personalised Clothing and Printing
Design your own T-shirts online with a very simple to use interface. You can choose the font, text size, text colour and print type plus upload you own design (or choose from one of theirs). There is a wide range of products, including children's sizes, polo shirts, tank tops, sweatshirts, hoodys, jackets, underwear, bags, hats plus lots more. Products are quality branded clothing from names such as Fruit of the Loom, Anvil, Triumph and Jerzees. Spreadshirt GmbH is based in Leipzig, Germany, and ships to countries throughout the EU.
• Free Delivery on orders >£350
---
Tail-Swishing
• www.tail-swishing.co.uk
Headers: Personalised Baby Gifts, Baby Products, Wedding Invitations & Name Plates, Cards,
Tail-Swishing specialises in baby gifts and unique keepsakes including personalised name certificates and baby & nursery products from "pregnancy bump to baby's birth and beyond". In addition there is an extensive range of children's Usborne books. A family run business, Tail-Swishing is based in North Lanarkshire, Scotland,
• Special Features: If you have any queries, Skype users can "Skype" them directly from the website.
• Gift Service: Tail-Swishing will gift wrap and send your gift direct to the recipient, including a personalised message.
• International Delivery Available
---
The Original Gift Company
• www.theoriginalgift.co.uk


Headers: Gifts, Personalised Gifts
Very nice range of gifts for all ages and tastes. You can browse by person, lifestyle, occasion or type of gift - or just use the search box. Personalised gifts available including map jigsaws, calendars, children's story books, towels, gardeners aprons and carafe and glass set. Buy online or request a catalogue. Orders can be sent direct to recipient. The Original Gift Company is based in Wiltshire. and is owned by the Scotts of Stow Group which, in addition to its highly successful nationwide catalogue business, has several retail outlets in Gloucestershire.
---
Thorntons
• www.thorntons.co.uk
Headers: Personalised Gifts, Christmas Preview, Chocolate Collections, Toffee & Fudge, Thorntons Specialities, Hampers & Gift Boxes, Flowers & Chocolates, Greeting Cards, Children's Treats, Corporate Gifts,

Wedding Service, The Art Of The Chocolatier (Article)
If you thought there would be just chocolates here, think again. As well as the Thorntons range of chocolates, including diabetic chocolate, the site has a small selection of fine wines, flowers bouqets, mugs, bears, greetings cards plus other gift ideas. If you not sure what to get, you can use their gift finder. If you prefer to browse at your leisure, you can order a catalogue online. Notice that flower deliveries are to mainland UK only.
• Gift Service: Gift wrapping is available plus if your chocolates are a gift, you can have them sent direct to the recipient.
---
TShirt Studio


www.tshirtstudio.com
Headers: Personalised T-shirts (Adults & Children), Mugs, Mouse Mats, Canvas Bag, Teddy Bear with T-Shirt, Polo-shirt (Adults)
Not just T-shirts, but other personalised items are also available with TShirt Studio. You can have just text, or you can upload your own image as well. You can send your order by post if you have an image you would like to use that is not on your computer. TShirt Studio is based in Faringdon, Oxfordshire.
• Special Offers: There is a 10% discount for orders over £50.
• Free Delivery
---
VistaPrint
• www.vistaprint.co.uk
Headers: Free Products, Business Cards, Business Identity, Marketing Materials, Promotional Giveaways, Cards Notes & Stationery, Invitations & Announcements, Rubber Stamps & Labels, Home & Family, Product Accessories, DIY Websites
Personalised/custom products for home and business users. VistaPrint.co.uk offers custom designed and printed business cards, postcards, magnets, address labels and letterheads, plus an extensive range of promotional materials such as pens, T-shirts and calendars to name just a few - even for short print runs. You can choose from their templates or use your own custom made designs. Notice that prices exclude VAT. Vistaprint is an international company.
• Special Offers: Lots of free stuff inlcluding business cards, rubber stamps, pens, logo design and car door magnets.
---
Your Design
• www.yourdesign.co.uk
Headers: T-Shirts. Mugs, Teddy Bears, Mouse Mats, Boxer Shorts, Coasters, Nameplates, Keyrings, Jigsaws
Excellent range of items, including heat sensitive mugs, that you can personalise. Upload your own graphics and choose your own text. There is no minimum (or maximum) order, but there is a 15% discount on orders over £40. Your Design is based in Ormskirk.
• Free Delivery
Can't find it?
Try our search engines, price comparison and online auction pages.