Art Prints and Posters

Where to buy art prints online - Reviews and ratings of quality, hand-picked, UK websites
---
All Posters
• www.allposters.com
Headers: Art Prints, Posters, T-Shirts, Framed Art, Plaque Art, Notecards, Magnets, On Sale, Tin Signs, Decorative, Mirrors, Matted Prints, Poster Cards, Standups, Wall Tapestries, Gift Certificates
Claim to be "The World's Largest Poster, Print & Frame Store". They have hundreds of thousands of posters and art prints a their very easy to use website. You can choose to have framing or their own unique mounting service which permanently bonds prints to a durable hardboard backing. Very competitive on price, you can get huge art prints 3 foot wide for around £15, when they are often over £20 for smaller ones on other sites.
---
Artrepublic
• www.artrepublic.com
Headers: Art Posters, Art Prints, Framing, Art Terms, Artist Biographies
Stylish site featuring a large range of art posters, screen prints, world-wide exhibition reviews, books, travel guides and competitions. Over 1250 public museums and galleries listed. There is also an interesting section featuring biographies of artists. In addition, there is a clever search facility to help you find exactly the poster/print you want. You can search by colours, subjects, artists, art movement and more. For example you can search on "black and white" and "urban" or "red" and "sport", or "warm" and "cuisine" and "american modern art" etc. This is a very innovative and useful extension of the normal search facilities on the internet.
• Free Delivery
• Special Features: Innovative search facilities. (See review above)
---
Easyart
• http://en.easyart.com
Headers: Art Prints, Limited Editions, Photography, Celebrities
Easyart has over 50,000 prints, posters and photographs, including limited editions. Styles range from traditional to comtemporary. They also offer a framing service, where you can choose the kind of frame and glass. This is a nice, easy to navigate, site. As you are looking through the prints, you can add favourites to "My Gallery" so you don't lose track.
---
Tate Online Shop
• www.tate.org.uk
Headers: Books, Gifts, Art Materials, Prints & Posters, Greetings Cards
Lots of gifts with an art theme, from bags to key rings. Plus there is the prints and posters section where you can buy posters and custom prints. You can choose a piece of art, select the paper type and then get it custom framed if you want.
• Gift Service: Orders can be delivered to any address you specify with a personal gift message included.
• International Delivery Available
---

World Gallery
• www.worldgallery.co.uk
Headers: Art Prints, Posters
World Gallery is based in London and is one of the leading online art print galleries. They offer a unique canvas-finishing service for prints. Highly competitive prices on over 50,000 fine art prints. Online custom framing, including box mounted, and art consultancy services for business buyers.
• International Delivery Available
---
OnePoster.com
• www.oneposter.com
Headers: Posters, Artprints, T-Shirts, Badges, Stickers, Keyrings, Postcards, Accessories
UK store with 10,000 posters and artprints ranging from pop, rock and movie titles through to humour, wildlife and landscapes. Extensive range of modern and popular artprints. You can get posters for around £3 or £4 or around £10 for Art prints. Hundreds of badges, keyrings, stickers and postcards. Secure site with full money-back guarantee.
---

Forbidden Planet International
• www.forbiddenplanet.co.uk
Headers: Cartoons/Animations, DVD, Clothing, Comic Merchandise, Movie Merchandise, TV Merchandise, Graphic Novels, Action Figures, Books, Roleplaying, Other, Posters, Gift Certificates
Europe's largest retailer of TV, movie and comic merchandise with currently over 15,000 products listed online. There is a wide range of items covering both classic and the most recent movies and television. Forbidden Planet was established in 1976 and is based in Maldon, Essex, with 15 stores throughout the whole of the UK.
---
Lollipop Animation


• www.lollipopanimation.com
Headers: Original Artwork, Limited Editions, Sculptures, DVDs & Posters, Disney Prints
Lollipop Animation offers exclusive collectibles from Warner Bros. Walt Disney and 20th Century Fox - stocking character brands such as The Simpsons, Mickey Mouse and Superman, to name but a few. Visit the Lollipop Animation Art Gallery at 7a High Street Passage, Ely, Cambridgeshire, CB7 4NB.
• International Delivery Available
---
artgallery.co.uk
• www.artgallery.co.uk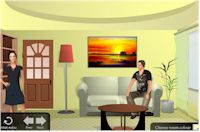 Headers: Originals, Art Prints
Large range of British original art and art prints in a variety of styles. Original art includes paintings and sculptures and there are full biographies of the artists. Browse by price, subject, style, media, colour or artist. You can also sell your artwork through artgallery.co.uk.
• Special Features: "Test drive" a painting or print. Using their virtual room software, choose a room style, including your own colours and see what the painting looks like before you buy!
---
Heaton Cooper Studio
•www.heatoncooper.co.uk
Headers: Fine Art Gallery, Art Materials, Bookshop
As well as original paintings by Alfred & William Heaton Cooper (and other members of the

family), you can buy prints, cards, a very wide range of artists materials, and books. You can buy online or visit the shop which is in Grasmere in the Lake District.
• International Delivery Available
---
SportsartWorld.com
• www.sportsartworld.com
Headers: Football, Golf, Ice Hockey, Rugby, American Football, Cricket, Motor Racing, Baseball, Basketball, Horse racing, Motor Cycling, Boxing, Misc Sports
SportsartWorld.com sells a range of limited edition and original sports paintings and prints from a variety of sports. As SportsartWorld.com has its own resident sporting artist, you can even commission your own sports painting. SportsartWorld.com is based in Haddington, East Lothian.
• Free Delivery
Can't find it?
Try our search engines, price comparison and online auction pages.