Ski & Snowboard Holidays

Reviews and ratings of quality, hand-picked, UK websites
---
MyTravel
• www.mytravel.co.uk
Headers: Sun Holidays, Ski Holidays, Late Holidays, Flights, Cruises, Travel Information
Quick and easy search facilities from MyTravel with package holiday offers from Airtours, Aspro, Direct Holidays, Escapades, Panorama and Manos. Discounts if you book online plus a price promise to customers who find one of our travel deals cheaper somewhere else within 24 hours of booking. In addition the site has travel guides for all the main holiday destinations.
European ski holidays available.
---
Opodo
• www.opodo.co.uk
Headers: Flights, Hotels, City Breaks, Tailor-made Holidays, Package Holidays, Cars, Meaningful Travel, Ski
Offers an unbiased and competitively priced online travel service for world travel, they have access to flights from over 400 airlines, as well as an extensive range of worldwide hotel properties and car rental companies, as well as travel insurance. Headquartered in London, the UK site launched in January 2002 and have already established themselves as a leading provider of online travel.
Ski holidays for Europe and the USA. Good search facility.
---
Thomas Cook
• www.thomascook.com
Headers: Deals, Holidays, Flights, Hotels, Flight + Hotel, Cruises, UK Breaks, Car Hire, Airport Parking, Insurance, Airport Hotels, London Theatre Tickets, Attraction Tickets, Travel Vouchers, Guides
As you might expect with Thomas Cook, you can book a hotel, flight or compete packages virtually anywhere in the world, with access to thousands of hotels and hundreds of airlines. The search is quick and effieicent plus you can use the site to book a car at your destination and arrange parking at your departure airport.
Snow holidays in Europe and North America
---

Leather Travel Document Wallet -
Passport holder, currency wallet, travel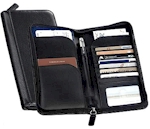 document organiser—an essential travel accessory in luxurious, full grain leather.
It's designed specifically to conveniently carry your most important possessions when you travel.
Folder pockets on the left are designated to hold your tickets and passport; and on the right, a nylon-backed pocket with a built-in depression allows easy access to your currency when you want it and a secure hold when closed.
The wallet features a pen holder on the central spine, plenty of slots for airline, hotel and phone cards, and a windowed business card slot with thumb opening for easy removal. There's also an external pocket on the back to hold your boarding card.
www.essentials4travel.com £29.95 £0 P&P = £29.95

I travelled among unknown men In lands beyond the sea; Nor, England! did I know till then What love I bore to thee -



William Wordsworth
Can't find it?
Try our search engines, price comparison and online auction pages.