Specialist/Unusual Holidays

Reviews and ratings of quality, hand-picked, websites
---
The Adventure Company
• www.adventurecompany.co.uk
Headers: Adventure Holidays


The Adventure Company is a tour operator with over 200 adventure holidays, from Family Adventures for children as young as 1 year to climbing Mount Kilimanjaro. You can find safaris, trekking holidays, activity weeks, cultural journeys and more. The Adventure Company is an award winning travel site, with many interactive features and online booking capabilities.
---
The Traveller
• www.the-traveller.co.uk
Headers: Worldwide Tours
For the holiday of a lifetime! Expect to pay more than normal for an exclusive and cultural guided tour from The Traveller. Dozens of tours are available worldwide, from Easter Island to Timbuktu. Tour lengths vary depending on the tour - from a 3 night city tour of Reykjavik to a 16 day tour of the silk road in China. Each tour is accompanied by a lecturer. Note there is usually only one tour per year for each location, so book early! Fantastic.
---
Cosmos Tourama
• www.cosmostourama.co.uk
Headers: Touring Holidays, Cruises, Resort Holidays, Short City Breaks, Special Interest Tours, Classic Rail Journeys, Safari Holidays
Something a little different. Cosmos Tourama has over 40 years experience creating and organising touring holidays. There are touring holidays in Europe, USA, Canada, Africa, South America, Asia, Australia & New Zealand. Also classic rail journeys, safaris & special interest holidays like music tours to Elvis' Graceland. There are river cruises across Europe, Egypt and China, plus sea cuises in the Mediterranean, Caribbean and Alaska/Canada. Book online or request a brochure.
• Special Features: Build your own personalised ebrochure.
---
Disneyland Resort Paris
• www.disneylandparis.com
Headers: Tickets, Hotel booking, Park information
Disneyland Resort Paris has two theme parks, the Walt Disney Studios Park and the Disneyland Park itself. You can buy one day or 3 day tickets, which give you access to all the (free) attractions, but note there are restrictions on the one day tickets as to where you can go. The tickets are £27.00 (one day) and £72 ( 3 day). The 3 day tickets do not have to be used on consecutive days. The park also has seven themed hotels, which you can book online, and for golf enthusiasts, there is the Disneyland 27 hole golf course. There is also the Disney Village which is free to enter and contains a range of shops, restaurants and entertainments which are separately priced. If you buy your tickets online here, note that 10 days are required for delivery.
---
Hayes and Jarvis
• www.hayesandjarvis.co.uk
Headers: Special Offers, Destinations, Tours
Hayes & Jarvis is a specialist long haul holiday tour operator, with holidays to more than 50 destinations in the Indian Ocean, Far East, Middle East, Africa and the Caribbean. Plus specialist holidays such as tours, safaris and multi-centre holidays. The website features resort and hotel information, a special offers search tool to locate the best last-minute deals and secure online booking. ATOL (No 1275), ABTA (No V1464), IATA and Federation of Tour Operator memberships. Hayes & Jarvis is a trading division of First Choice Holidays & Flights Ltd. You can request a brochure online.
• Special Offers: 5% web discount.
---
KeyCamp Holidays
• www.keycamp.co.uk
Headers; Camping Holidays in Europe
Choose a campsite from locations such as France, Holland, Luxembourg, Austria, Switzerland, Italy and Spain. All the campsites provide tents and mobile homes and the prices include a Dover crossing. Holidays are suitable for families and couples and most campsites have pools and provide sporting activites such as tennis. Other activities availble include diving, sailing, cycling, horseriding, windsurfing and canoeing. Founded in 1976, KeyCamp Holidays has offices in Cheshire, Ireland and Holland and is part of Holidaybreak plc.
---
Kuoni Travel
• www.kuoni.co.uk

Headers: Holidays, City Breaks, Dive, Escorted Tours, Safaris, Specialist Interest, Weddings


Kuoni has long been a byword for dream holidays - maybe a trip down the Nile or on Safari in Africa! Choose from holidays in Africa & Indian Ocean, Australasia, Caribbean, Europe, Far East, Indian Sub-Continent, N. Africa & Middle East, Sth & Central America and USA & Canada. Kuoni Travel was founded in 1906 in Switzerland and now has 300 offices around the world.
---
Mosaic Holidays
• www.mosaicholidays.co.uk
Headers: Luxury Holidays, Diving Holidays
Mosaic Holidays is a specialist tour operator offering a wide range of luxury holidays in a choice of countries including Egypt, Maldives, Oman, Turkey, Dubai, North Cyprus and Sri Lanka. The diving division offers a variety of dive destinations for all budgets and levels of experience, with holidays to the Red Sea, the Maldives, Northern Cyprus and Sri Lanka. You can also arrange Scuba diving lessons via Mosaic. Over 3000 holidays available.
• Special Features: Live online help available.
---
Peter Sommer
• www.mosaicholidays.co.uk
Headers: Escorted Archaeological Tours, Gulet Cruises in Turkey
Guided tours in Greece and Turkey. Choose a land based tour or a cruise in a gulet sailing ship. You can phone them up or request a brochure online.Peter Summer is based in Monmouth.
• Special Features: Videos online
---
Pure Vacations Ltd
• www.purevacations.com
Headers: Surfing Holidays, Snow Holidays.
Pure Vacations have been in business for 5 years arranging worldwide surfing and snowboarding holidays. One of the world's leading surfing tour operators providing surfing holidays throughout Europe, Indonesia, South Pacific, United States, Caribbean and other exotic locations. They offer Surf Schools, Surf Guiding Services and Independent Surf Travel.
---
Sherpa Expeditions
• www.sherpa-walking-holidays.co.uk
Headers: walking holidays, cycling holidays, expeditions
Sherpa Expeditions arranges walking and cycling holidays, either self guided or escorted within groups. You can be adventurous and choose, for example, to take a guided trek to the top of Mount Kilmanjaro, or maybe you would prefer to walk or cycle from Inn to Inn in Alsace, with your bags being delivered for you each step of the way. Sherpa has many different walking/cycling holidays on offer in a variety of countries, including the UK and Europe, Iceland, Africa and South America. Sherpa have been specialists in walking and cycling holidays for more than 30 years and have their headquarters in Hounslow.
---
Simply Travel
• www.simply-travel.co.uk

Headers: Hotels, Villas and Apartment Holidays
Established in the late 1970s, Simply Travel specialises in hand picked villa and hotel holidays off the "beaten track" and you can choose from hotels to a fisherman's cottage. There are properties available in Croatia, France, Greece, Portugal, Spain and Turkey. The search facility is easy and fast and there are generally discounts for web bookings.
---
African Voyages
• Headers: Tours, Hotels, Car Rentals, Regional Flights, Day Trips
Africa voyages tour operator, online travel, vacation holidays booking agent
Africas premier online discounts booking with experienced safari guides, hotels and car rental. Special bargains with relevant links to daily news, maps, art, music and craft and much more
---
Bali Tours & Travel
• Bali Tour and Travel specialist bali wedding arrangement, luxury villas, hotel reservation
Headers: General Information, Tours In Bali, Lombok Tours, Yogya Tours, Tours Packages, Adventure Tour, Bali Hotels, Bali Villas, Weddings In Bali
Bali Tours & Travel provides complete information about weddings in Bali, hotels, holidays, hotel accommodation, villas, hotel reservations online, tour packages, adventure tours, sightseeing and culture. Bali Tours & Travel is a licensed travel company and has been operating since 1950.
---
Cuba Select Travel
• Cuba Select Travel
Headers: Cuba Tours, Cultural Tours, Special Interest Tours, Sailing, Fishing
Full tour and travel service in Cuba provided by Cuba Select Travel. Hotels, tranfers, excursions, car rental and guide service. Choose from sailing holidays, diving, fishing, cultural tours, beach tours or choose a special interest package such as birdwatching. There are even cigar tours! Iincentive groups. Cuba Select Travel is a British tour operator with offices in Havana, Cuba and London.
---
Rajasthan Tour Travel Packages
• www.unlimitedindia.com
Headers: Indian Travel Tours
Indian travel and tours | Indian travel tour service. Unlimited India is an established Indian travel agent and tour operator based in Rajasthan and offering a variety of Indian travel tours. Tours include Rajasthan tours, South Indian tours, Honeymoon Tours, Taj Mahal, Nepal, Wildlife Tours, East Indian Tours, Pilgrim Tours, Royal Tours and more.
---
Hotel Vietnam
Hotel vietnam travel vietnam tour vietnam visa vietnam flight vietnam train vietnam car vietnam resort vietnam
Hotelvietnamtravel.com provides information on hotels in Vietnam with Vietnam travel, Vietnam tours, Vietnam visas, Vietnam train tickets and Vietnam flight ticket services.
---
Vietnam Paradise Travel
• Vietnam Paradise Travel
VietnamParadiseTravel.com (Vietnam Paradise Travel, VPT) is a Vietnamise travel agency that looks for the cheapest rates for hotels, rooms, tours, flights, trains and car rental around the Vietnam. Excellent deals available. Book online.
---
WaytoVietnam
• Vietnam Travel - Vietnam Adventure Tours and Travel Guide
Vietnam Travel Agent, Culture and Heritage Directory with details of Vietnam tours and hotels in Halong, Hanoi City, Sapa, Dalat, Hue, Hoian and more. There are also flight and train details plus information of Vietnamise culture and attaction. Book online.
---
Hotel Carvoeiro Sol
• Golf Holidays in the Algarve, Portugal
4 star Hotel Carvoeiro Sol offers golf on a selection of golf courses in the Algarve, Portugal. Located in the heart of Carvoeiro, 25 metres from the beach, the Hotel Carvoeiro Sol is 50 minutes fro Faro Airports.
---

Leather Travel Document Wallet -
Passport holder, currency wallet, travel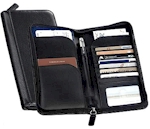 document organiser—an essential travel accessory in luxurious, full grain leather.
It's designed specifically to conveniently carry your most important possessions when you travel.
Folder pockets on the left are designated to hold your tickets and passport; and on the right, a nylon-backed pocket with a built-in depression allows easy access to your currency when you want it and a secure hold when closed.
The wallet features a pen holder on the central spine, plenty of slots for airline, hotel and phone cards, and a windowed business card slot with thumb opening for easy removal. There's also an external pocket on the back to hold your boarding card.
www.essentials4travel.com £29.95 £0 P&P = £29.95
Can't find it?
Try our search engines, price comparison and online auction pages.