Sun/Beach Holidays

Reviews and ratings of quality, hand-picked, UK websites
---
Monarch Holidays
• www.monarch.co.uk/holidays
Headers: Holidays, Flights, Hotels & Apartments, Villas, Lapland, Distant Dreams
Monarch is the UK's largest independent tour operator and part of the Globus group of companies, which encompasses Cosmos Tourama, Avro, Monarch Airlines and Archers Direct. Monarch now takes over half a million people to over 35 destinations around the world each year. Monarch is a family owned business with traditional values as an independent, family-orientated holiday company.

---
Direct Holidays
• www.directholidays.co.uk
Headers: Holidays, Flights, Special Offers, Late Deals, Airport Extras, Holiday Information
Good, fast searches on holidays and flights, plus excellent travel guides online. Directholidays.co.uk is a direct-sell package holiday tour operator and has holidays available in the UK, the Mediterranean, North Africa, Cuba, Florida, Dominican Republic, West Indies and Turkey. Very good on late deals and as they say, by buying direct, you can cut out travel agents commissions! Holidays are ATOL protected. Direct Holidays is part of the MyTravel Group.
---
Hayes and Jarvis
• www.hayesandjarvis.co.uk
Headers: Special Offers, Destinations, Tours
Hayes & Jarvis is a specialist long haul holiday tour operator, with holidays to more than 50 destinations in the Indian Ocean, Far East, Middle East, Africa and the Caribbean. Plus specialist holidays such as tours, safaris and multi-centre holidays. The website features resort and hotel information, a special offers search tool to locate the best last-minute deals and secure online booking. ATOL (No 1275), ABTA (No V1464), IATA and Federation of Tour Operator memberships. Hayes & Jarvis is a trading division of First Choice Holidays & Flights Ltd. You can request a brochure online.
• Special Offers: 5% web discount.
---
James Villas Holidays
• www.jamesvillas.co.uk
Headers: Villa Holidays
Choose from over a thousand villas across the Mediterranean, Turkey, Tenerife, The Canaries, France, Portugal and Orlando Florida. There is a wide range of villas, sleeping from 1 to 16 people plus villas next door to each other if you have an even larger party! All villas have private swimming pools. Starting prices, which are quoted per villa, are very reasonable. Make your own way there, or, if you wish, James Villas will organise your holiday completely, including flights, car hire and travel insurance. James Villas Holidays was founded in 1984, is a member of ABTA and holds an Air Travel Organisers Licence.
---
KeyCamp Holidays
• www.keycamp.co.uk
Headers; Camping Holidays in Europe
Choose a campsite from locations such as France, Holland, Luxembourg, Austria, Switzerland, Italy and Spain. All the campsites provide tents and mobile homes and the prices include a Dover crossing. Holidays are suitable for families and couples and most campsites have pools and provide sporting activites such as tennis. Other activities availble include diving, sailing, cycling, horseriding, windsurfing and canoeing. Founded in 1976, KeyCamp Holidays has offices in Cheshire, Ireland and Holland and is part of Holidaybreak plc.
---
Kuoni Travel
• www.kuoni.co.uk

Headers: Holidays, City Breaks, Dive, Escorted Tours, Safaris, Specialist Interest, Weddings


Kuoni has long been a byword for dream holidays - maybe a trip down the Nile or on Safari in Africa! Choose from holidays in Africa & Indian Ocean, Australasia, Caribbean, Europe, Far East, Indian Sub-Continent, N. Africa & Middle East, Sth & Central America and USA & Canada. Kuoni Travel was founded in 1906 in Switzerland and now has 300 offices around the world.
---
Mosaic Holidays
• www.mosaicholidays.co.uk
Headers: Luxury Holidays, Diving Holidays
Mosaic Holidays is a specialist tour operator offering a wide range of luxury holidays in a choice of countries including Egypt, Maldives, Oman, Turkey, Dubai, North Cyprus and Sri Lanka. The diving division offers a variety of dive destinations for all budgets and levels of experience, with holidays to the Red Sea, the Maldives, Northern Cyprus and Sri Lanka. You can also arrange Scuba diving lessons via Mosaic. Over 3000 holidays available.
• Special Features: Live online help available.
---
MyTravel
• www.mytravel.co.uk
Headers: Sun Holidays. Ski Holidays, Late Holidays, Flights, Cruises, Travel Information
Quick and easy search facilities from MyTravel with package holiday offers from Airtours, Aspro, Direct Holidays, Escapades, Panorama and Manos. Discounts if you book online plus a price promise to customers who find one of our travel deals cheaper somewhere else within 24 hours of booking. In addition the site has travel guides for all the main holiday destinations.
---
Opodo
• www.opodo.co.uk
Headers: Flights, Hotels, City Breaks, Tailor-made Holidays, Package Holidays, Cars, Meaningful Travel, Ski
Offers an unbiased and competitively priced online travel service for world travel, they have access to flights from over 400 airlines, as well as an extensive range of worldwide hotel properties and car rental companies, as well as travel insurance. Headquartered in London, the UK site launched in January 2002 and have already established themselves as a leading provider of online travel.
---
Simply Travel
• www.simply-travel.co.uk

Headers: Hotels, Villas and Apartment Holidays
Established in the late 1970s, Simply Travel specialises in hand picked villa and hotel holidays off the "beaten track" and you can choose from hotels to a fisherman's cottage. There are properties available in Croatia, France, Greece, Portugal, Spain and Turkey. The search facility is easy and fast and there are generally discounts for web bookings.
---
Thomas Cook
• www.thomascook.com
Headers: Deals, Holidays, Flights, Hotels, Flight + Hotel, Cruises, UK Breaks, Car Hire, Airport Parking, Insurance, Airport Hotels, London Theatre Tickets, Attraction Tickets, Travel Vouchers, Guides
As you might expect with Thomas Cook, you can book a hotel, flight or compete packages virtually anywhere in the world, with access to thousands of hotels and hundreds of airlines. The search is quick and effieicent plus you can use the site to book a car at your destination and arrange parking at your departure airport.
---
Travelbag
• www.travelbag.co.uk
Headers: Flights, Hotels, Car Hire, Holidays, Cruises
Travel Bag will arrange holidays, book hotels or arrange air flights. Or if you would like a cruise or a round the world trip, then Travelbag will also arrange these for you. Look out for the weeks best deals for cheap prices. You can book flights from all major UK airports to virtually any destination in the world. When asking for a quote you can also specify your preferred airline if you wish. Note that the hotel booking service applies only to the USA and Canada. Travelbag has offices in several locations throughout the UK.
---

Leather Travel Document Wallet -
Passport holder, currency wallet, travel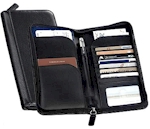 document organiser—an essential travel accessory in luxurious, full grain leather.
It's designed specifically to conveniently carry your most important possessions when you travel.
Folder pockets on the left are designated to hold your tickets and passport; and on the right, a nylon-backed pocket with a built-in depression allows easy access to your currency when you want it and a secure hold when closed.
The wallet features a pen holder on the central spine, plenty of slots for airline, hotel and phone cards, and a windowed business card slot with thumb opening for easy removal. There's also an external pocket on the back to hold your boarding card.
www.essentials4travel.com £29.95 £0 P&P = £29.95
Can't find it?
Try our search engines, price comparison and online auction pages.