Travelling Accessories

Reviews and ratings of UK websites
Packyourbags Travel Store
• http://shop.packyourbags.com
Headers: Accessories & Electricals, Clothing, Footwear, Outdoor Equipment, Packs & Luggage, Health & Fitness, Gift Ideas, Gift Vouchers
Not just travel accessories! Of course you can get things like luggage tags and travel adaptors, but Packyourbags also sells a wide range of accessories for skiing, snowboarding, camping, hiking and backpacking. Founded in 1980, Packyourbags is based in Tunbridge Wells, Kent (where there is a high street presence specialising in travel plannning and equipment sales) and is owned by CTT Group.
• Free Delivery on orders >£50
---
Essentials4travel.com
• www.essentials4travel.com
Headers: Luggage & Baggage, Business Cases, Travel Accessories, Maps & Guides, Electronics & Gadgets
Essentials4travel offer a wide range of travel accessories from well known brands such as Antler, Travelpro and Atlantic for luggage, Michelin and Eyewitness guides, Oregon clocks, N-Voy leather accessories plus many more items including digital cameras and accessories. In addition they have a generous 30 return policy. Essentials4travel are based in Telford and have been trading on the web since 2001.
• Special Features: 30 day returns policy
• Free Delivery on orders >£19
---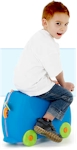 Trunki
• www.trunki.co.uk
Headers: Children's Luggage
You may have seen this one on Dragons Den. Trunki is lightweight luggage for children 3+ that can be ridden, pulled along or carried (with a shoulder strap) by an adult. Kids can pack, carry & ride their luggage, while parents can keep them in tow – literally! Currently available in 2 colours. Trunki is made by Magmatic, a relatively new company - look out for new children's travel accessories in the future.
• Special Features: 14 day returns policy.
---
EnglishHall.com
• www.englishhall.com
Headers: Fine Foods, Aromatics, Shaving, Leather, Pens, Men's Style, Toys
For the more discerning shoppers out there (I assume that's everyone reading this!), English Hall sells luxury British Goods from luxury brands such as Truefitt & Hall, English Toys and Floris. From luxury luggage to luxury chocolate. English Hall was launched in 1999, is owned by Location Bluenet Investments Ltd and is based in London, SW11.
---
Boots
• www.boots.com
Headers: Diet & Fitness, Beauty, Premium, Fragrance, Health, Baby, Toys, Mens, Travel, Photo, Electrical, Gifts
Boots online store stocks over 10,000 items, including Boots' exclusive brands plus a wide range of products that you will not find in a Boots store, from pushchairs to fitness equipment. Click on travel and not only will you find sunscreen, but luggage, beachwear and more. You can even buy your travel insurance here. Lots of advice and information on a variety of subjects. You can also sign up for a Boots advantage card and get points when you shop. Boots usually have several online offers and clearance bargains.
• Free Delivery on orders >£40
---
Express Chemist
• www.expresschemist.co.uk
Headers: Perfume & Aftershave, Men's Products, Diabetes Products, Family Health, Allergies, Beauty Products, Medicine Cabinet, Diet & Fitness, Sexual Wellbeing, Kitchen Appliances, Health Products, Alternative Health
Based in Brighton, Express Chemist is an international online pharmacy, supplying an extensive range of pharmaceutical products, including day to day toiletries, medicines and disability aids. 30 day returns policy. Very fast and easy to navigate website.
Type "travel" into the search box for a variety of travel products including electrical and medicinal products.
---
Field and Trek
• www.fieldandtrek.co.uk
Headers: Clothing, Equipment, Footwear, Technical Guide, Gift Vouchers
Outdoor clothing and equipment, supplying everything you would need for walking trips, camping holidays, backpacking and trekking expeditions, mountaineering & climbing, adventure racing and travel. There are also substantial discounts available for organisations buying in bulk. Founded in 1973, Field and Trek is an established mail order retailer based in Laindon, Essex, with 11 stores throughout England. Buy online or request a catalogue.
• International Deliveries Available. Contact for delivery details.
---
Gear Zone
• www.gearzone.co.uk
Headers: Waterproof Zone, Fleece Zone, Clothing Zone, Footwer Zone, Tent Zone, Rucksack Zone, Military Zone


Outdoor equipment, outdoor clothing and travel products such as Fleeces, Gore-Tex Jackets and Tents. Offering over 60 brands including Berghaus, The North Face, Craghoppers, Wild Country, Lifesystems and Petzl -free delivery, and no quibble returns.
---
Gentlemans Shop
• www.gentlemans-shop.com


Headers: Gift Collections, Shaving Accessories, Shaving Products, Fragrance, Skin Care, Bath & Body, Hair Care, Accessories, Leather Goods, Business & Travel, Home & Leisure
The Gentleman's Shop was established in 1997 and is a retailer of fine quality shaving and grooming products and personal accessories for the discerning gentlemen - you won't find any electric razors here! The accessories section has a good range of products from silk ties to watches plus there are some very nice travel bags. Also included on the site are guides to shaving. The Gentleman's Shop is located in Hungerford, and if you happen to be nearby, why not visit their Barber Shop? Full details on the site.
• International Delivery Available
---
Just Sport and Leisure
• www.justsportandleisure.com
Headers: Office and Travel, Games & Entertainment, Sport & Fitness
Just Sport and Leisure sells a wide range of luggage and travel accessories from Delsey and TravelPro, plus they have just about all Filofax products and a range of Daler Rowney art cases. Check out the range of Oregon Scientific products, including digital cameras, MP3 players, clocks, weather stations and health monitors. Great range of Mookie Toys. And if that's not enough, you can also get pool tables plus pool and snooker accessories, sports equipment and now their new range of Intex pools. Not to mention garden games, toys, aquashoes and gadgets. Just Sport and Leisure is based in Basildon and is part of the Just Sport group. Note that all products have a 12 month warranty.
• Free UK Mainland Delivery on orders >£75
---
Marks & Spencer Online Store
• www.marksandspencer.com
Headers: Women, Lingerie, Men, Kids, Entertainment, Travel, Home, Technology, Flowers & Gifts, Food & Wine, M&S Money, Gift Vouchers
In addition to the standard, high quality M&S range of clothing for men, women and children, there is the ultra trendy per una due range for girls, which is not available in all stores. The home department features an impressive range of home accessories, from soft furnishings to bathroom suites. Not to mention a pretty large range of rather upmarket furniture for every room in the house, including the garden. M&S online is not just restricted to clothes and home accessories - peek into the technology department for phones, TVs, hi-fi, radios, iPods and digital camcorders and cameras. The food department is in two parts. Lunchtogo allows you to order business lunches online - type in post code to see if you are in a delivery area. With food ordering, you have to download an order form to present at participating stores.
• Special Features: 90 day free returns policy. You can sign up for the Marks & Spencer credit card, &more, online.
• Gift Service: Gift vouchers and gift wrapping available, plus you can have your order sent to more than one address.
• Free UK Delivery for Furniture, TVs and Flowers
---
Presents For Men
• www.presentsformen.com
Headers: Presents for Men, Gifts for the Girls, Travel Paraphernalia, Accessories, Essentials
Presents for Men is a long established UK mailorder company with a large range of over a 1000 gifts; from gadgets to jewellery. There is also a well stocked travel department with a range of items for both backpackers and executives. Presents For Men is based in Cleator Moor, Cumbria. Buy online or order a catalogue.
• Special Features: Monthly Prize Darw. Just sign up to receive the Presents for Men free email newsletter.
• Gift Service: They will include your own card and message and dispatch it together with any item.
• Free UK Mainland Delivery on orders >£150
• International Delivery Available
---
Rohan


• www.rohan.co.uk
Headers: Mens, Womens, Travel Accessories
Rohan manufacture their own design range of quality outdoor and travel clothing which includes jackets, trousers, shorts, fleeces, shirts, T-shirts, suits, dresses and skirts plus underwear and accessories. All designs employ state of the art technology to ensure garments are either waterproof, coldproof, windproof or heatproof. Search by clothing type, climate or activity. Founded in 1975, Rohan has approximately 40 stores throughout the UK, with customer services based in Tongwell, Milton Keynes. Buy online or request a catalogue.
---
Tesco Direct
• www.tesco.com
Headers: Computing & Phones, Home Electrical, Sound & Vision, Furniture, House & HOme, DIY & Car, Sports & Leisure, Baby & Toddler, Toys & Games
Tesco.com is the world's biggest online grocery retailer, but there is also a massive range of other non-grocery products available on the Tesco website, form electrical items to toys and games. Plus Tesco runs regular price checks to ensure that prices are highly competive.
• Special Features: Free returns within 28 days. Clubcard points on all purchases.
• Connection Service: Connection service on cookers, washing machines, refrigeration equipment, washer/dryers and dishwashers - charges may apply. Removal and disposal service also available.
---
The Sports HQ Group
• www.thesportshq.com
Headers: The Golf HQ, The Fitness HQ, The Leisure HQ, The Sports HQ (including CA Cricket Direct Products)
Equipment and clothing for golf, plus a range of fitness equipment, poker equipment, patio heater covers, tents, games tables, suitcases and more. The Sports HQ Group is the owner and manufacturer of famous golf club brands such as Confidence, Texan Classics, Chicago Golf, CQ Poker and Palm Springs Outdoor Living Patio Heaters as well as having the exclusive European License for CA Cricket. Although there is not usually a particularly large range of products in each category, you can expect to save upto 70% on normal retail prices - there really are some good deals to be had here. Based in Alvechurch, Worcestershire, The Sports HQ Group is the European division for Palm Springs manufacturer, Confidence Sporting Goods who has been making sports goods since the 1970s.
Can't find it?
Try our search engines, price comparison and online auction pages.