UK Tour Operators

Reviews and ratings of quality, hand-picked, UK websites
---
The Adventure Company
• www.adventurecompany.co.uk


Headers: Adventure Holidays
The Adventure Company is a tour operator with over 200 adventure holidays, from Family Adventures for children as young as 1 year to climbing Mount Kilimanjaro. You can find safaris, trekking holidays, activity weeks, cultural journeys and more. The Adventure Company is an award winning travel site, with many interactive features and online booking capabilities. e-brochures available.
• Special Features: Live chat
---
Cosmos Tourama
• www.cosmostourama.co.uk
Headers: Touring Holidays, Cruises, Resort Holidays, Short City Breaks, Special Interest Tours, Classic Rail Journeys, Safari Holidays
Something a little different. Cosmos Tourama has over 40 years experience creating and organising touring holidays. There are touring holidays in Europe, USA, Canada, Africa, South America, Asia, Australia & New Zealand. Also classic rail journeys, safaris & special interest holidays like music tours to Elvis' Graceland. There are river cruises across Europe, Egypt and China, plus sea cuises in the Mediterranean, Caribbean and Alaska/Canada. Book online or request a brochure.
• Special Features: Build your own personalised ebrochure.
---
Direct Holidays
• www.directholidays.co.uk
Headers: Holidays, Flights, Special Offers, Late Deals, Airport Extras, Holiday Information
Good, fast searches on holidays and flights, plus excellent travel guides online. Directholidays.co.uk is a direct-sell package holiday tour operator and has holidays available in the UK, the Mediterranean, North Africa, Cuba, Florida, Dominican Republic, West Indies and Turkey. Very good on late deals and as they say, by buying direct, you can cut out travel agents commissions! Holidays are ATOL protected. Direct Holidays is part of the MyTravel Group.
---
Kuoni Travel
• www.kuoni.co.uk

Headers: Holidays, City Breaks, Dive, Escorted Tours, Safaris, Specialist Interest, Weddings


Kuoni has long been a byword for dream holidays - maybe a trip down the Nile or on Safari in Africa! Choose from holidays in Africa & Indian Ocean, Australasia, Caribbean, Europe, Far East, Indian Sub-Continent, N. Africa & Middle East, Sth & Central America and USA & Canada. Kuoni Travel was founded in 1906 in Switzerland and now has 300 offices around the world.
---
Monarch Holidays
• www.monarch.co.uk/holidays
Headers: Holidays, Flights, Hotels & Apartments, Villas, Lapland, Distant Dreams
Monarch is the UK's largest independent tour operator and part of the Globus group of companies, which encompasses Cosmos Tourama, Avro, Monarch Airlines and Archers Direct. Monarch now takes over half a million people to over 35 destinations around the world each year. Monarch is a family owned business with traditional values as an independent, family-orientated holiday company.

---
Mosaic Holidays
• www.mosaicholidays.co.uk
Headers: Luxury Holidays, Diving Holidays
Mosaic Holidays is a specialist tour operator offering a wide range of luxury holidays in a choice of countries including Egypt, Maldives, Oman, Turkey, Dubai, North Cyprus and Sri Lanka. The diving division offers a variety of dive destinations for all budgets and levels of experience, with holidays to the Red Sea, the Maldives, Northern Cyprus and Sri Lanka. You can also arrange Scuba diving lessons via Mosaic. Over 3000 holidays available.
• Special Features: Live online help available.
---
Portland Holidays Direct
• www.portland-direct.co.uk
Headers: Holiday Destinations, Holiday Selections, Holiday Extras, Flights Only, Cruises, Late deals
Portland Holidays specialises in providing a wide range European, West Indian and African holiday packages suitable for most tastes, including late deals. You can search by loacation or use the holiday finder, which allows as much latitude as you like. The site is very easy to search. You can also book a flight with Britannia Airways. Portland Holidays is part of the World of TUI, an international company based in London that also owns Lunn Poly.
---
Sherpa Expeditions
• www.sherpa-walking-holidays.co.uk
Headers: Walking Holidays, Cycling holidays, Expeditions
Sherpa Expeditions arranges walking and cycling holidays, either self guided or escorted within groups. You can be adventurous and choose, for example, to take a guided trek to the top of Mount Kilmanjaro, or maybe you would prefer to walk or cycle from Inn to Inn in Alsace, with your bags being delivered for you each step of the way. Sherpa has many different walking/cycling holidays on offer in a variety of countries, including the UK and Europe, Iceland, Africa and South America. Sherpa have been specialists in walking and cycling holidays for more than 30 years and have their headquarters in Hounslow.
---
ShortBreaks Ltd
• www.short-breaks.com
Headers: European City Breaks
Shortbreakd Ltd is a specialist tour operator offering short breaks by Eurostar to Paris, Brussels, Bruges, Antwerp, Leuven, Lille and Mechelen. Travel from Waterloo or Ashford. You can also book Disney Paris direct from the website. Book online or request a brochure. ShortBreaks Ltd is fully bonded and holds ABTA and ATOL licences.
---
The Traveller
• www.the-traveller.co.uk
Headers: Worldwide Tours
For the holiday of a lifetime! Expect to pay more than normal for an exclusive and cultural guided tour from The Traveller. Dozens of tours are available worldwide, from Easter Island to Timbuktu. Tour lengths vary depending on the tour - from a 3 night city tour of Reykjavik to a 16 day tour of the silk road in China. Each tour is accompanied by a lecturer. Note there is usually only one tour per year for each location, so book early! Fantastic.
---

Leather Travel Document Wallet -
Passport holder, currency wallet, travel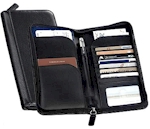 document organiser—an essential travel accessory in luxurious, full grain leather.
It's designed specifically to conveniently carry your most important possessions when you travel.
Folder pockets on the left are designated to hold your tickets and passport; and on the right, a nylon-backed pocket with a built-in depression allows easy access to your currency when you want it and a secure hold when closed.
The wallet features a pen holder on the central spine, plenty of slots for airline, hotel and phone cards, and a windowed business card slot with thumb opening for easy removal. There's also an external pocket on the back to hold your boarding card.
www.essentials4travel.com £29.95 £0 P&P = £29.95
Can't find it?
Try our search engines, price comparison and online auction pages.