Bellringing on the Net


Graham Brown investigates the history of this fascinating subject and takes a look at some excellent sites.
---
See also -
Bellringing Webnews
Graham Brown investigates the latest Bellringing Websites
and interviews some of the people behind them.
---

THE art of change ringing is peculiar to the English, and, like most English peculiarities, unintelligible to the rest of the world. To the musical Belgian, for example, it appears that the proper thing to do with a carefully tuned ring of bells is to play a tune upon it. By to the English campanologist ... the proper use of the bells is to work out mathematical permutations and combinations. --



Dorothy L. Sayers
The Nine Tailors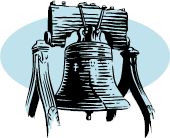 An English Peculiarity
IN Tenth Century England a decree was passed that granted the title of "Thane" to any Saxon possessing 500 acres, a church, and a belltower. To this day we enjoy the result of this tempting title. But do our ears? Worried by news that every church in the land would be pealing it's bells the morning after the night before the Twenty First Century, I decided to learn more about this "English Peculiarity".
To start with I (like any good "musical Belgian") wondered why classic Chris de Burg melodies can't ring out at weddings. A marvellous page from MIT Guild of Bellringers provided the answer. Firstly ... what is easiest, but by no means easy, is that cascading sound that accompanies newly-weds down the aisle. It is also possible, but quite tricky, for a ringer to give a bell a lighter pull than it's neighbour so that on the next cascade the 2 notes change places in the sequence i.e. "ringing the changes" This means that the bells can be rung in any combination. Attempts to swap more than one place to ring a tune can, for technical reasons, end up with the ringer being pulled up to the ceiling! Hardly a risk worth taking to attempt "Lady in Red". The web page goes on to fully explain why the only real use of bells is "to work out mathematical permutations and combinations"
Happy that this is one "English peculiarity" that can be successfully defended I continued ... "The Ringing World" site aims to offer "useful information and facilities for bellringers, as well as giving an insight into the world of change-ringing for the uninitiated." The site boasts that "some ringers say change ringing is better than - well, cricket, at the very least".
There are some great links here to some interesting articles from "The Structure of Palindromic Peals" to "Universal Surprise Compositions" (Draft Version).
Next I found a rather amusing article. Apparently The Inland Revenue had been taking an unhealthy interest in the activities of the bell-ringers in Staffordshire. Most notably their £5 rewards for ringing at Weddings. But it turns out that the Revenue had to back off lest "expenses wholly and exclusively incurred for the purposes of a profession or trade." create a tax loss/refund for their intended new customers.
Still chuckling I visited a charming homepage of the Rutland bellringers (unfortunately no longer there). To the clang of a bell as I turned each page I finally found the information I had begun my surfing for. It read "As a result of the Branches' intense efforts to train ringers for Millennium Ringing, there has been a 15% increase in Guild Membership, with some Branches gaining almost 30%." But by now I had gained a sneaky admiration for this most peculiarilly English practice. I was no longer too worried about January 1st 2000. But then again ... as it turned out ... that Saturday morning ... I was spark out.

See also:

• Bellringing sites • Bellringing Webnews

Taking care of the pennies
Steve Sutherland


THE aim of this article is to explain to webmasters of sports and hobby sites how they can make a modest income of roughly 10p to £10 per day from their sites. If you run such a site, then perhaps you have wondered about placing some advertising on it, if only to help with costs. Of course, nothing is guaranteed on the internet. This is not a "get rich quick" monologue. However, hopefully this article can help you earn some realistic income from your site, with no more than a few hours work, followed by a minimal amount of ongoing work.



• read full article
Can't find it?
Try our search engines, price comparison and online auction pages.