Experience Days

Reviews and ratings of quality, hand-picked, UK websites
See Also:
Ticket Brokers
Murder Mystery Weekends
City Breaks
Wine Tasting
Flying Experience Days
Driving Experience Days
Pampering Experiences
Corporate Experience Days
Classic Rail Journeys
SuperCar Hire
---
This is a listing of sites offering Experience days. They include activities such as Hot Air Ballooning, Driving a Racing Car, Learning Circus Skill, Shadowing a Zoo keeper etc.
Which to choose? Competition is hot in the experiences market, so it is worth checking them all out - in fact all the websites listed here are first class.

If, however, you have something specific in mind, then use our Experiences Search Engine. With this database you can instantly search across several Experience Day websites at once.
---
Activity Gifts
• www.activitygifts.co.uk
Headers: Flying Experiences, Driving Experiences, Action Activity Gifts, Classic Experiences, Indulgence Gifts, Water & Sport Gifts, Everything Else, Gift Vouchers, Corporate
Great selection of activity experiences to suit all ages and tastes. Plus Gift Vouchers and corporate incentives. Flexible voucher system gives the recipient the opportunity to choose the date and location on which to live their dream, or if you prefer, you can arrange the date upon booking.
• Special Features: 150% Price Promise! If within 3 days of purchase you find the same experience anywhere on the web at a cheaper price, then they will refund you 150% of the difference.
---
Activity Superstore
• www.activitysuperstore.com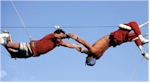 Headers: Fly, Drive, Outdoor, Pamper, For Two, Lifestyle, Fame, Teen & Family, Water, Group Activities, Gifts, Activity Cheques, Corporate
Huge range of experiences suitable for most ages and tastes, plus gifts include aniversary newspapers and hampers. Vouchers are valid for 9 months, but can be extended by an additional 6 months. The Activity Superstore is based in Saffron Walden, Essex.
• Special Features: Activity cheques for those of you want to give an experience as a gift but don't know which to choose.
• Gift Service:As well as the standard voucher pack, there is also a boxed gift pack if you are giving an experience as a gift.
---
Asda
• www.asda.co.uk
Headers: Groceries, Financial Services, Books, CDs, DVDs, Games, Electricals, Furniture, Gifts, Mobile Phones, Opticians, Photo, Travel
Not just groceries, but speaking of which, if you order your groceries online with an Asda credit card you get free delivery! Check the website to see if they deliver in your area.
Asda Experience Days
Choose from the following categories:
Adrenaline zone, Days Out, Driving experiences, Flying experiences, For Her, For Him, Gifts for Couples, Hobbies, Pampering days, Ultimate experiences, Under 18s, Unique gifts, Wet 'n' wild, Hot deals, Bestsellers, Football Gifts
---
Buyagift.co.uk
• www.buyagift.co.uk
Headers: Driving, Flying, Relaxing, Wet'n'Wild, Ultimate Gifts, Other Gifts, Adrenalin Zone, Other Activities, Traditional Gifts, Gift Vouchers, Corporate, Personalised Gifts, Personalised Vouchers
Easy to navigate website offering a wide range of experience day gifts from Ferrari and rally driving days to hot air ballon rides and health spas. Or maybe you fancy a plot of land on Venus? (Don't forget your breathing gear!). Lots of unusual gifts such as an Andy Warhol Style Portrait. Also you can buy flowers, wine and hampers here. Buyagift is based in Enfield, Middlesex.
• Special Features: Price promise guarantee that if you purchase any gift experience from them and within 14 days you find the same experience advertised elsewhere at a lower price, they will refund 120% of the difference.
• Special Features: Money Vouchers are available in addition to specific experience vouchers. Plus you can purchase personalised vouchers and boxed gift sets.
• Special Offers: £5 discount. Enter the code 170274 at the basket.
---
Days To Amaze
• www.daystoamaze.co.uk
Headers: Driving Days, Flying Days, Water Days, Pamper Days, Gift Ideas,

Corporate Days, Ferrari Hire, Lifestyle Gadgets , Gift Vouchers
Large range of experiences, including many unusual ones, from driving Ferraris to Bear and Orca Watching on Vancouver Island to cookery lessons with a top chef. Or maybe you fancy sleeping with the SAS or what about tree camping?! Also a very wide range of corporate activites available. Vouchers good for 10 months, and can be extended for a fee. In addition there is the gift section which includes things such as owning a share in a football club and aniversary newspapers. Days to Amaze Ltd is based in Dorridge, Solihull.
• Special Features: Open Gift Vouchers from £10 to £1000.
---
eXhilaration
• www.exhilaration.co.uk
Headers: Corporate Incentives, eXhilaration Vouchers, Driving, Spa, Air, Water, Adrenaline, Sport, Performing Arts, Gourmet & Culture
eXhilaration has hundreds of experiences on offer from driving military vehicles to cookery courses with Delia Smith. Excellent search - you can search by person, keyword, price or location.
• Special Features: Open Gift Vouchers available from £50 to £500.
---
Fresh Weekends
• www.freshweekends.com
Headers: Experience Weekends, Gift Vouchers
Lots of ideas for those of you who want to get away for the weekend and do something a little bit different. The main categories are: Driving and Flying, Food and Drink, Golf, Murder Mystery, Outdoor Pursuits, Overseas Adventure, Spa and Pamper, Theatre, Visit London, Sailing and Cruising. Plus there are a few offbeat packages such as the Tribute to Fawlty Towers break in Harrogate, or the Interior Design Course for two.
---
ThanksDarling
• www.thanksdarling.co.uk
Headers: Gift Experiences, For the Home, Big Boys Toys, Adult Games, Kid's Stuff, Jewellery, Traditional, Gadgets & Gizmos, Personalised Gifts, Other Gifts, Gift Vouchers
Based in Docklands, London, Thanksdarling offers a huge range of experiences, with something for everyone, from a glamorous day on the Orient Express to a recording studio experience! There is also an extremely eclectic collection of products for sale which should make selecting a gift here quite simple.
• Special Features: Reminder service. Enter important dates and get an email plenty of time in advance!
• Gift Service: You can choose to have your gift pack delivered directly to you, directly to your recipient, or to another address you specify.
• Free Delivery
---
Thruxton Motorsport Centre
• www.thruxtonracing.co.uk
Headers: Circuit Driving, Kart Racing, 4x4 Driving, Aerobatic Flying, Young Drivers, Corporate Packages
Thruxton Motorsport Centre has fleet of supercars consisting of the latest cars from Ferrari, Porsche, Lamborghini, MG, Mercedes-Benz and Lotus. Gift packs are valid for 1 year from date of purchase and they operate on both weekdays and weekends with the season running from February to December. Thruxton Motorsport Centre is close to Andover, Hampshire.
---
Action Days UK
• www.actiondaysout.co.uk
Headers: Corporate Events - Team Building, Shooting Events, Motor Sport, On The Water, Other Activites
Team building days, activities and events in Dorking, Surrey - Ideal for London corporate clients. Locations are in Sussex, Surrey, Nottingham and Central London.
Keywords: paintball london
---
Virgin Experience Days


• www.virginexperiencedays.co.uk
Headers: Vouchers, Drive, Fly, Splash, Pamper, Discover, Days At Home, Collect, Escape, Voyage
Good range of experiences including all the old favourites like flying and driving experiences, plus some more unusual ones such as a holiday in a private game reserve.
• Special Features: In addition to experiences, you can get good quality caricatures made here.
---
A1Gifts
• www.a1gifts.co.uk
Headers: Anniversary, Baby, Birthday, Candles, Christening, Drinking Games, Experience Days, Figurines, Gadgets, Personalised Gifts, Photo Frames, Remote Control
Large range of gifts for all tastes and occasions including wedding anniversaries, special birthday gifts, christening, bronze art and more. There is also an articles section where you can get information on baptisms, christenings, godparents and appropriate gifts. A1 Gifts is based in West End, Southampton.
• Special Features: Free gift reminder service. 21 day returns policy. Prize draw: Sign up to their email and you will be entered automatically. Loyalty scheme whereby you get 5% of your total spend with them in gift vouchers.
• Gift Wrapping: Full gift wrapping service with a choice of wrapping paper.
• Free UK Delivery on orders>£50
• International Delivery Available
---
BeOnScreen
• www.beonscreen.com/uk
Headers: TV Show Search, Magazine Articles, TV Show Tickets, TV Jobs
Bristol based company making it easy to take part in your favourite TV shows. It has also revolutionised the way television researchers find participants, audiences and guests for their shows. On the site you can search through shows that are looking for participants, get free audience tickets, find a job in television & entertainment plus receive email alerts of new listings. Download the free beonscreen ebook which gives advice on the best ways to get on TV shows.
Standard Membership: FREE. Allows you to apply to all the TV shows on the site for free.
Gold membership: One off lifetime payment of £19.99. Includes email alerts as soon as new shows are uploaded; appear at the top of searches when a TV show researcher looks for participants, upload a photo to your details and attach your photo to applications.
• Special Offers: Register with BeOnScreen (Platinum, Gold or Standard) and get a £20 Virgin Wines voucher.
---
RedLetter Days
• www.redletterdays.co.uk
Headers: Adventures, Animal Lovers, Body & Soul, Culture, Demon Drivers, Gourmet, High Flyers, Junior, School of Life, Sport Fanatics, Water World, Experience Vouchers
These are the people who started it all! Founded in 1989, Red Letter Days now offers over 1000 experiences in the UK and abroad. Bookings can be open ended, which means you can have 6 months for the booking to be made. Red Letter Days also offer corporate experience packages.
---
You might also be interested in .....
---
The Adventure Company
• www.adventurecompany.co.uk


Headers: Adventure Holidays
The Adventure Company is a tour operator with over 200 adventure holidays, from Family Adventures for children as young as 1 year to climbing Mount Kilimanjaro. You can find safaris, trekking holidays, activity weeks, cultural journeys and more. The Adventure Company is an award winning travel site, with many interactive features and online booking capabilities.
Can't find it?
Try our search engines, price comparison and online auction pages.